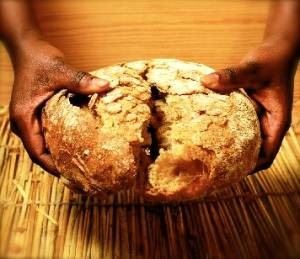 Call to Worship
Remembering when we could gather
as a congregation,
we worship now in our own homes.
Remembering how Jesus drew the crowds,
we worship knowing he draws us still in solidarity.
Remembering how Christ fed the hungry,
we worship now for food for the soul,
each solitary one of us a part
of that glorious noisy throng.
HYMN – By the Rivers of Babylon
All-Age Prayer
Lord God,
wherever you went,
the crowds followed,
because they knew that you would feed them
in body, mind, and spirit.
May we gather friends too
because we are known to be kind and generous.
You found it difficult to have time on your own,
may we always have space
to recharge when we are tired.
Help us, Lord Jesus, just like you did,
to always see possibility and potential,
and to enhance the gifts of others,
sharing what we have
and being glad of all that others bring.
So may we love and serve you in all things.
Amen.
Reading: Matthew 14 v 13 – 21 read by Linda Anderson
Reflection:
Prayer:
HYMN – For Everyone Born a Place at the Table
Sunday School for all ages:
Today's song about our story:
O God, is going to give you, all that you need,
O God, is going to give you, all that you need, all that you need.
He is good and loves you, good and loves you, hey-eh-eh.
A Picnic Rug
You will need: long strips of different coloured material (length will depend on how big you wish the finished rug to be, but about fifteen 120 x 15 cm strips would give a fair-sized woven rug), duct tape, and scissors.
Lay out about seven strips vertically and starting at the top, show the children how to weave one of the other strips horizontally 'over and under' each strip. Explain that the next one needs to start 'under then over' to create the pattern and then let everyone work together to weave the rug.
When completed secure along each and using duct tape to keep the strips in place.
Talk with everyone about times when they have gone on a picnic and what they would usually take with them. Talk about the little boy in the story (in Luke's gospel) taking his five loaves and two fish and how he was willing to share his food with the others. Talk about everyone then being able to get a little something to eat because he was willing to share what he had. Discuss the importance of sharing what we have with others.
HYMN – One Bread, One Body
Prayers for Others and Ourselves
God,
when we are frightened,
give us courage;
when we are disturbed,
bring us calm;
when we sit in darkness,
show us the beginnings of dawn;
when we want to retreat and be quiet,
nudge us back to bring life to others;
when we are tempted to hoard what we have,
open our hands to share.
God,
again and again remind us that we have power:
power to heal the earth and its people.
May we use that power
in love and service as Christ showed us.
Lord,
surprise us with glimpses of you
at work around us,
making all things new.
May we yearn to be a part of that,
working alongside you,
to heal creation with you,
God of the universe.
Amen.
Prayer of Dedication
Lord God,
help us to use our power wisely
for the good of all creation.
May we share all that you have given us
for love of the world,
and to honour your name.
Amen.
HYMN – Guide Me O thou Great Jehovah
Sending
Lord, you are there for us.
When life leaves us parched or hungry,
anxious or weary,
direct us to you—
the source of Holy food.
Reveal yourself as the giver of all that we need.
Physical need is met in what you make ready for us,
and intend to make available for all.
Spiritual need is met in the giving of yourself for us,
and for all people.
With the knowledge of such love and generosity,
let us go into the world restored and renewed. Amen