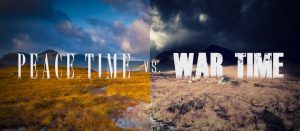 A Message from Christian Aid calling for action as well as prayer

The last week has seen the worst violence between Israel and the Palestinians since 2014. And the conflict escalated further still over the weekend as Sunday became the deadliest day so far.

As I write this the cycle of violence spirals out of control, with many innocent Palestinians and Israelis dead, wounded or simply exhausted with fear.

'It is terrifying here. This time is not like any time before. Bombs are everywhere, my kids did not sleep since yesterday.'

These are the words of Feda'a, a mother to small children and staff member at one of our partner organisations in Gaza.

This cannot continue. Join us in calling on the UK government to pursue an immediate ceasefire.

Stand in solidarity with all Palestinian and Israeli victims of violence today. Email the PM ►
In hope for a more peaceful future,

Luke Harman
Campaigns and Activism Manager
Christian Aid
This Week's Music
This Week's Prayers
God of peace
Adapted from the Ecumenical vigil for peace in Israel and the occupied Palestinian Territory
We pray for all who suffer in the midst of renewed conflict and attack.
We pray for Israelis living with the threat of rocket fire,
for Palestinians subjected to airstrikes, attempted shootings
living under military occupation and facing eviction from their homes.
In particular, we pray for children and young people
caught up in terror beyond their understanding or control.
We pray for those who have been killed, maimed, bereaved;
those who have had their future torn away from them;
those whose lives are bleak, lacking opportunity and hope.
We pray for the people of Gaza,
living under blockade,
repeated military bombardment,
and now the threat of ground invasion
that will cause an escalation of deaths
and a descent into the depths of hell.
We repent of our complicity in silence,
our closing our eyes to the needs and wellbeing of the children
and our failure to reject the ways of violence, threat and injustice.
We pray in the name of Jesus Christ, our peace and our hope. Amen.
Prayer as we weep
Jesus, coming down from the Mount of Olives,
you wept over Jerusalem
and we weep with you now
over traumatised families
and their exhaustion with fear
over the escalating death toll
and the threat of a ground invasion
over the incitement and abuse of power
and innocent civilians paying the price
over the failure of the international community
to do all they can to intervene and stop the conflict.
Help us all to recognise on this day
all the things that make for peace.
Jesus, in the garden of Gethsemane
you prayed with deep grief
and we pray with great sorrow now
that no further blood would be spilled
that this cup of suffering be removed
from Palestinians and Israelis
and that Gaza would not descend to hell.
This is not what you want.
We pray for international intervention,
for an immediate cessation of all violence,
for Israel and Palestine to be treated as equal
and for a resurrection of peace and justice for all.
In your mercy, hear our prayer. Amen.