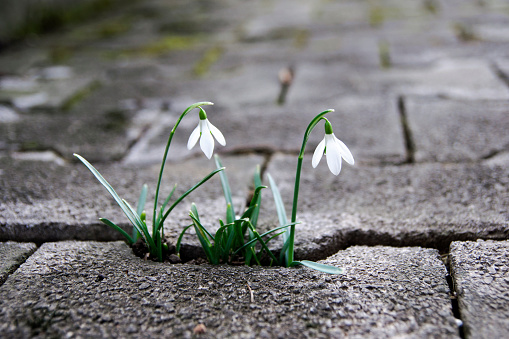 The wilderness and the dry land shall be glad,
    the desert shall rejoice and blossom;
like the crocus  it shall blossom abundantly,
    and rejoice with joy and singing.
The glory of Lebanon shall be given to it,
    the majesty of Carmel and Sharon.
They shall see the glory of the Lord,
    the majesty of our God. Isaiah 35 v 1-2
One week after Ash Wednesday, not too far into our Lenten journey, things may start to feel a bit heavy going. The start line has faded in the rear view mirror but the end point is too far off to see. However, the message to "enjoy the journey" doesn't quite hit the mark either. In a time of fasting and doing without, a time of spring emerging but winter still evident, in a time of lockdown, perhaps this week we might really feel the barrenness, the emptiness, the isolation of the wilderness experience of these 40 days. There's a long way to go and keeping going is hard. How do we find strength? How do we find motivation? How do we find God when most days feel quite negative? Lent is a time of questioning and searching but we do not do this standing still. It is a journey, we put one foot in front of the other and as each day comes, steps forward are taken even if we feel we are going backwards at times. And then one day, there it is, between the cracks (in our photograph) a snowdrop! Amazing! How did it get there? How did it manage to grow in the cold of winter and in the lack of soil? Maybe it is our Scottish equivalent of the crocus in the desert that Isaiah speaks of! The metaphor of a flower blooming in the desert is a powerful one for us. Hope springs eternal and each and every day there are signs on the road for us to notice and wonder at as we continue the journey of Lent and of faith. Pay attention and it will be true for you: "Morning by morning new mercies I see".
This week's prayer of thankfulness and song: