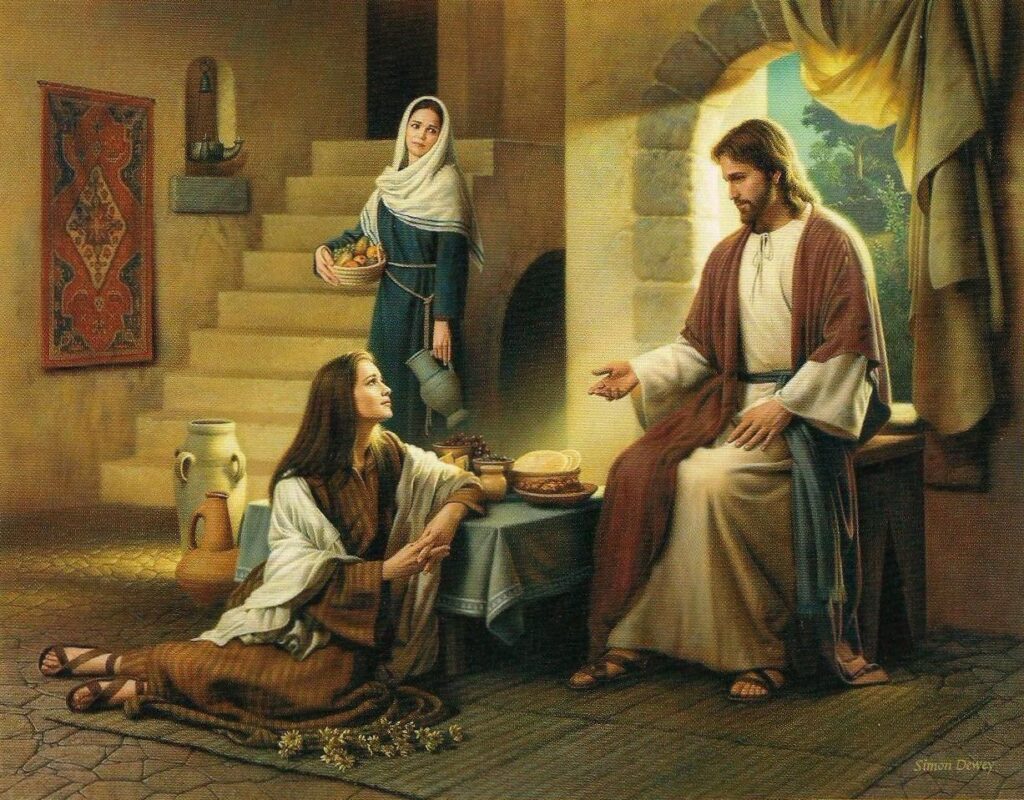 As Jesus and his disciples were on their way, he came to a village where a woman named Martha opened her home to him. She had a sister called Mary, who sat at the Lord's feet listening to what he said. But Martha was distracted by all the preparations that had to be made. She came to him and asked, "Lord, don't you care that my sister has left me to do the work by myself? Tell her to help me!"
"Martha, Martha," the Lord answered, "you are worried and upset about many things, but few things are needed—or indeed only one. Mary has chosen what is better, and it will not be taken away from her." Luke 10 v 38-42
As we visit the home of Mary and Martha with Jesus this week, we also turn our prayers to those spending more time at home due to the ongoing corona virus restrictions. We remember the poor and vulnerable as Jesus always did reminding us in the gospels that they are "always with us" in our society but that at certain times their needs will be more apparent. Our prayer this week is for those who are elderly, isolated and vulnerable at home and it comes to us from the Thy Kingdom Come team in the Church of England.
Speaking of needs, let's also reflect on our own personal circumstances and needs at this time.
Today the Ministry Team at Newbattle had a session with an input from Rev Peter Wood on Mission and Collaboration. Peter came to help us reflect on pioneering but at our opening worship I encouraged the team to also think abput 2 other P's – priorities and permission:
Priorities are often the things we don't get to choose, they are picked or given to us.
Yet alongside priorities comes permission – every time you say to yourself "this is something I have to do – you say "who says?" Who do you need permission from. Perhaps with all the rules around "FACTS" for coronavirus safety priorities the answer is "the government" or "the law".
However, often the priorities we have in our lives to do with work, family or obligations come from our own internal voice that speaks to us of our own standards, feelings, assumptions and expectations. "Who says?" "I say" to myself and the internal voices are usually why things either get pushed up or pushed down our priorities list.
Getting permission from ourselves to not do certain things or TO do certain things is a complex, reflective psychological and spiritual process  but getting permission from someone else – a parent, a manager, a lawyer, teacher perhaps – someone who is responsible and in charge, who says it's ok to do or not to do, can be a liberating, supportive and containing. I wonder if this is what happened for Martha, when Jesus gave her permission to stop doing all her chores and sit and listen to him.
This week's prayer:
This week's music: