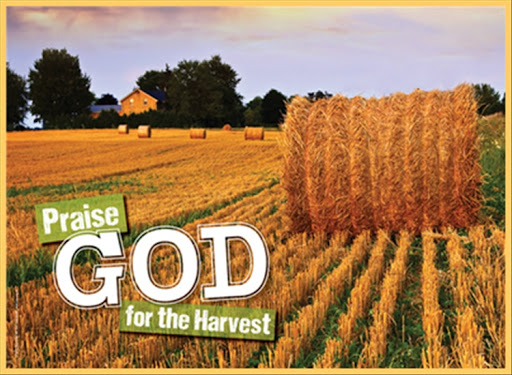 "Bring the whole tithe into the storehouse, that there may be food in my house. Test me in this," says the Lord Almighty, "and see if I will not throw open the floodgates of heaven and pour out so much blessing that there will not be room enough to store it." Malachi 3 v 10
Harvest is, of course, a farmer's busiest time of year. To harvest means to gather and if you drive past any of the fields in Midlothian just now you will see the round hay bales safely gathered in. The church, traditionally in rural parishes, had huge celebratory services of thanksgiving for their local farm folk where families acknowledged the hard work of those who farmed the land and where the farming families brought their "first fruits" to the church as an offering back to God. In my first parish I have many fond memories of going round all the farms at the end of September to check with the farmers that "all was safely gathered in" so that we knew we could have the Harvest Service in October! Then a dedicated team would decorate the church with autumn flowers and fruit and the communion table would be covered with first fruits – food given by our farmers: some wheat, some eggs, some milk, even some sausages and beef! It was quite tricky conducting the service around these things!
Things vary from parish to parish and also evolve over the years. In Newbattle, we may be a little less directly connected to the farming side of things but the food theme of harvest is very present in The Newbattle Storehouse Foodbank which is one of the key outreach arms of the church to our parish.
Throughout the month of October, this year's Harvest Thanksgiving Season in Newbattle will, as ever, be an opportunity for us to think about where our food comes from and to give thanks for those who produce it. It's also an opportunity for us to share from our plenty with those who do not have enough not just through our Storehouse Foodbank as well as through the church's benevolent fund to those in particular hardship and also in the support for the church buildings and ministry costs that enable our contact with all people throughout the year who need support with their mental and spiritual well being.
2020 has been a year of great transition and adaptation due to a new Transition Ministry taking root and of course with the circumstances of Covid 19. Therefore, the traditional practice of bringing a harvest gift of food to church is not going to be happening this year but this year, more than ever we are invited to celebrate Harvest throughout October in the following way – I've tried to make it simple and memorable with 3 G's:
Gather – as the farmers and food producers gather their harvest for the feeding of families throughout the world, we will gather in the church for a Harvest Thanksgiving Service at Mayfield and Easthouses at 11am this Sunday (4th October) for the first time on a Sunday since March this year (for Coronavirus safety reasons you must have booked a seat through the church office). This service will also be livestreamed so that we are gathering with people at home too.
Gratitude – According to Leviticus 27:30, "A tenth of the produce of the land, whether grain or fruit, is the Lord's, and is holy." We acknowledge where every gift we have comes from and also take time to appreciate those who give of themselves to work the land and sea, the factories and shops to make food available to us. We also recognise and pray for the work of our Storehouse Foodbank and so many other food projects across the UK at this time, who are meeting the needs caused by an increase in food hunger and poverty. During the Covid 19 crisis, the foodbanks have received funding from the Government for food and therefore do not need the usual donations handed in at churches at Harvest in the way they have in previous years. We ask this year for people to be aware and to pray for our Kirk Session Foodbank Working Group and volunteers this harvest time.
Give – We may not be bringing tins and packets of food to church this Harvest but we will still be encouraged to give. Proverbs 3:9 (NIV) says, "Honour the Lord with your wealth, with the firstfruits of all your crops." You might think that the farming or gardening metaphors don't apply to you, but these verses are essentially saying to give a portion, specifically a tenth, of whatever you make (and most of us make an income) back to God. And firstfruits is just a biblical way of saying that you should give first—before you do anything else with your money. Share from your plenty with those who do not have enough.
There will be a harvest offering plate at the church on Sunday, this will be the first Sunday offering uplifted in over 6 months in what has been an unprecedented time of financial crisis for the Church of Scotland. There is also now a "donate button" on the church website for people who are not coming to church to give online if they can. Giving to keep the church working enables us to house and administer our Storehouse foodbank, produce our weekly worship, provide pastoral care for those who are unwell, isolated and bereaved, reach out in partnership with community groups and initiatives and to reopen and develop our buildings for the ever changing landscape of interaction in society.
Our giving throughout October begins with congregational giving this Sunday but then we will give Harvest cards and autumn soup to members of all our older groups such as the Guild and Newtongrange Friendship Group and anyone living alone. I will be sharing in Harvest assemblies with Newtongrange and Lawfield schools on zoom and sharing the Harvest message as well as sharing soup and clothes at Lawfield at an outdoor table where we will connect with some families in the school in greatest need. I would also encourage you to be mindful when you are shopping. As we remember where our food comes from, please buy Fairtrade goods where and when you can to support food producers throughout our world in earning a fair wage to be able to feed their families and be able to send them to school.
So, GATHER, GRATITUDE, GIVE……..more, not less, to do this Harvest and we do it together for the whole season in this month of October.
This week's prayer:
How can I do one thing this week to begin my harvest celebration and offering?
This week's music: