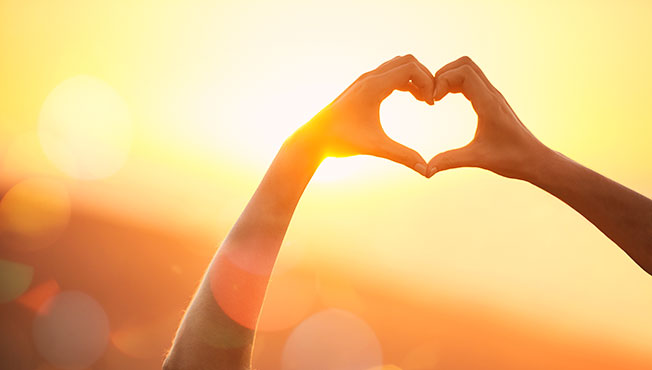 *Today at 11am the church at Mayfield and Easthouses will reopen for a short mid week service of reflection. This Thought for the Week will be posted on the website at the same time in our efforts to make sure there is something in church and something at home for all our congregation. In each place we think and pray for each other at this strange and difficult time for everyone.
If I speak in the tongues of mortals and of angels, but do not have love, I am a noisy gong or a clanging cymbal. And if I have prophetic powers, and understand all mysteries and all knowledge, and if I have all faith, so as to remove mountains, but do not have love, I am nothing. If I give away all my possessions, and if I hand over my body so that I may boast, but do not have love, I gain nothing.
Love is patient; love is kind; love is not envious or boastful or arrogantor rude. It does not insist on its own way; it is not irritable or resentful; it does not rejoice in wrongdoing, but rejoices in the truth. It bears all things, believes all things, hopes all things, endures all things.
Love never ends. But as for prophecies, they will come to an end; as for tongues, they will cease; as for knowledge, it will come to an end. For we know only in part, and we prophesy only in part; but when the complete comes, the partial will come to an end. When I was a child, I spoke like a child, I thought like a child, I reasoned like a child; when I became an adult, I put an end to childish ways. For now we see in a mirror, dimly, but then we will see face to face. Now I know only in part; then I will know fully, even as I have been fully known. And now faith, hope, and love abide, these three; and the greatest of these is love. 1 Corinthians 13 v 1 -13
Throughout the months of lockdown at the peak of the pandemic earlier this year, sadly, there were a higher number of funerals than usual. Each funeral was as different as each person who died but one thing that was the same throughout was the remembering that went on. When we look back on someone's life, however long or short, we call to mind our memories of them. One person standing at the graveside will perhaps remember something deeply personal that no one else could know, while another might recall an event everyone remembers but remember aspects of that time that meant something to them and not to others.
As a minister, I often say to families and friends who worry and get upset that they can't remember the year that someone left school or moved to a different country or was awarded a certificate for a particular achievement, that what is more important than details and pieces of information is that we get a sense of the person; the essence of a person. Of course that's not an easy job for the minister to capture in words of tribute but usually when you hear from family and friends before the service there are common tones of description and shared feelings and words expressed. When you can't meet families face to face in their homes prior to a funeral, as is the case during Covid -19, this listening work happens on the phone and by emails and involves a different energy and level of research.
Such was the case earlier this month when I was asked to conduct the interment service of a former minister of Newbattle Parish Church, the Rev Dr Henry Sefton. Some people are superb at learning facts and figures and can recount periods in history with detailed accuracy. It doesn't work like that for me but my memory retains every detail when I am captured by a story – a story that contains the essence of a person who continues to leave their mark long after their death. No wonder I love the gospels!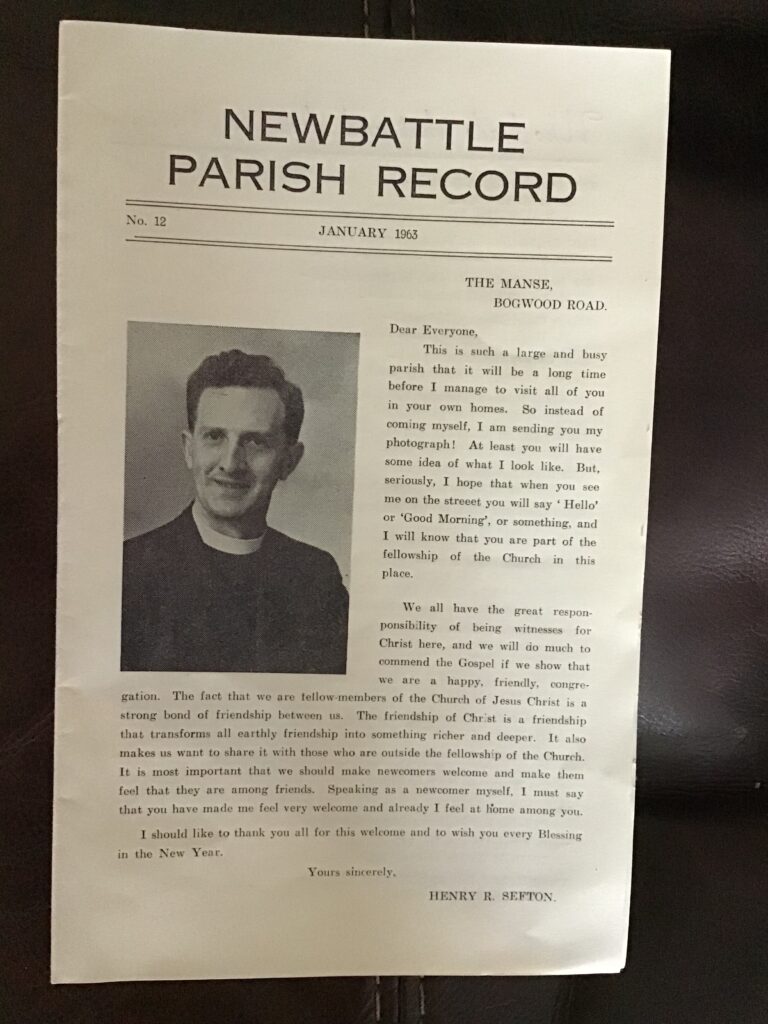 So I enjoyed doing my research learning about Henry Reay Sefton who was born in 1931 in Aberdeenshire. For Henry, history was a life long passion but so was learning – he spent a year in New York studying after his degree at St Andrew's University and then his time as an Assistant Minister in the Cathedral in Glasgow was relished with the same engagement and enthusiasm too. He was ordained in the Cathedral which may sound quite grand and highbrow alongside Henry's celebrated intellect and academic skill and whilst indeed he did go on to acquire his PhD, it was in Knightswood in Glasgow at St Margaret's church that Henry was much happier as an assistant minister. It was here that he met the love of his life – Margaret. Henry was then appointed as the minister of Newbattle in 1962 while they were still courting and the congregation remember him as a bachelor in his first couple of years, being looked after and fed by various families in the parish in between services on a Sunday. He and Margaret were then married in 1964 – it was a lovely wedding by all accounts with memorable flowers. 2 of the flower girls Alison and Valerie, his nieces were at his funeral. Henry always remembered that Margaret had yellow and white flowers in her bouquet. After 2 years in the manse together in 1966, Henry left Newbattle to take up a post in education for the ministry in the Church of Scotland Central offices in 121 George Street in Edinburgh and he and Margaret moved to Fairmilehead. In his farewell letter in the parish newsletter, Henry wrote these words:
Farewell letter:
"Less than half my ministry so far has been spent as a parish minister, and it may be that I shall never again be called to serve a parish as it's minister. If Newbattle proves to be my only parish, I shall rest content, for there is no parish in Scotland I would rather have served."
As the current incumbent of Newbattle Parish it was very special to read a copy of such lovely letter from the parish record. I felt privileged to conduct the service of interment for a former minister but also feel quite touched by the echoes of good wishes for new chapters and times of change that Henry wrote about in this letter. He spoke about leaving Newbattle to the next minister and the "right man for the job"! Although this letter obviously preceded the ordination of women ministers, I do hope and pray that I will continue to be "the right man" for this time in the church's history.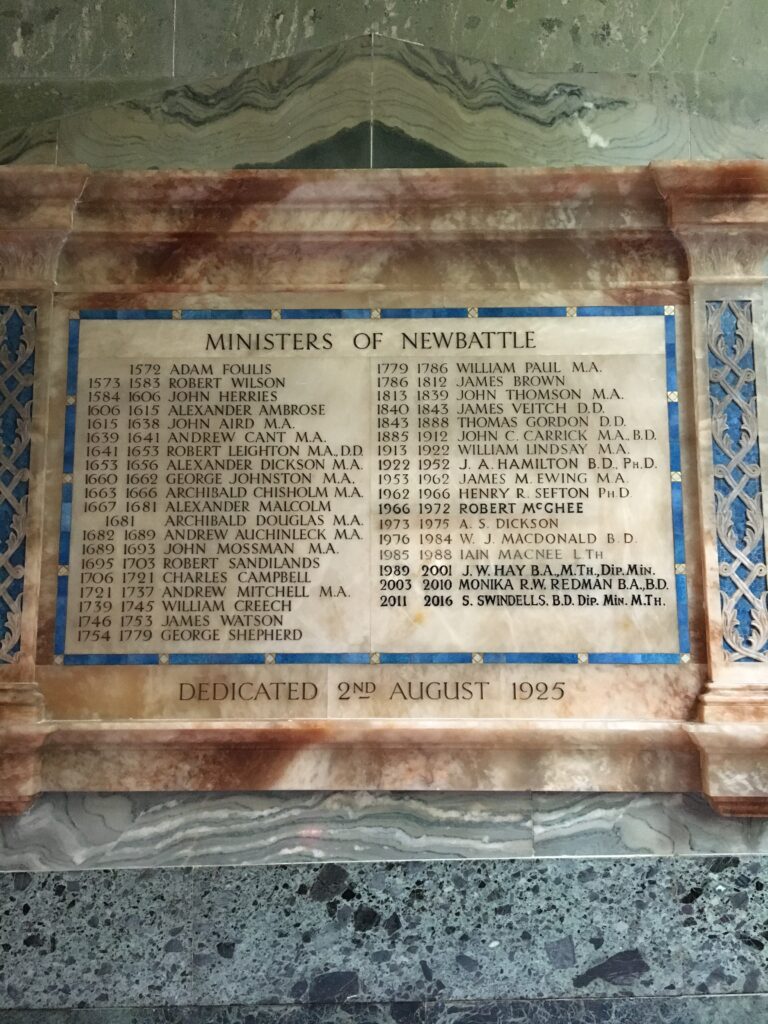 In Aberdeen where Henry moved to teach church history at the University after his wife sadly died in 1969, Henry kept in regular, loyal contact with friends and family and spent time with people when he was glad to receive them as visitors. Right up until his death in December last year, he remained of sharp mind and gentle nature. If you google Henry Sefton, there isn't very much information that comes up, such was his modesty I think, however, ask anyone who knew him and your will hear the same words of tribute and respect – "a studious, well liked, gentle, lovely man". A man with a great sense of humour, a man who was asked to do so many weddings and christenings for all his family and weddings and funeral for parish families here which he would often travel from Aberdeen to do. One Newbattle family remember him coming back from Aberdeen to conduct a funeral for an elder he had known well and kept in touch with. The funeral was the first one of the morning at 9am and they asked how he had made it in time from Aberdeen. He had left at 4am – that was Henry, loyal and there for people.
Quite a few of those who were in the church in Newbattle during Henry's ministry, were members of the youth fellowship and he seemed to be such a good influence on young people as a mentor and memorable pastor. Something that continued as he worked with young students for years after.
Of the people in the church at Newbattle who remember Henry and there are still a good few, all spoke of him leaving a lasting impression. This was his only parish and this is where his wife Margaret, who died tragically so young and after only 5 years of their marriage, was laid to rest. He never re-married, Margaret truly was the love of his life. Owner of the local florist, David Lamb, an elder of the church told me how Henry arranged for flowers for Margaret's grave every year, twice a year – on her birthday and on their anniversary and the flowers were to be white and yellow as they were in her bridal bouquet.
It was very special and fitting to reunite Henry and Margaret in their final resting places in Newbattle Cemetery surrounded by generations of their family: Catherine ( Henry's sister), Valerie and Alison (Henry's nieces), Andrew (Henry's nephew) Craig and Cameron (Henry's great nephews). There were flowers by David Lamb given on behalf of the church with the thoughts and prayers of this parish where it would seem a part of Henry always remained. One Newbattle family said these words: Henry was a real intellect and fount of knowledge with a prodigious memory and yet he had the common touch. He was so kind and interested in other people. Many of us feel privileged to have known him as a dear and lifelong friend.
And Henry himself said this of friendship in his first parish letter:
The friendship of Christ is a friendship that transforms all earthly friendship into something that is much richer and deeper.
It was into that rich and deep love of Christ that we committed Henry's soul at the end of his life and it is into that rich and deep love of Christ that we place our selves as we face uncertain days and new chapters in our church, community and society.
And so, we have an unbroken continuity with Henry as a Newbattle Minister as we seek to minister to others today – the history, the story goes on. It is a story of faith, hope and love and the greatest of these, is love.
This week's prayer:
God, we thank you for your faithfulness
from generation to generation,
for your promises that we know we can count on,
for the hope we have in you, past, present and future
and for the knowledge that you are in every beginning
and in every ending.
God you have provided a place of safety
for all races, for all nations, for all who call on your name.
You turn no one away but embrace all humanity
in the grasp of your love. Amen
This week's music: