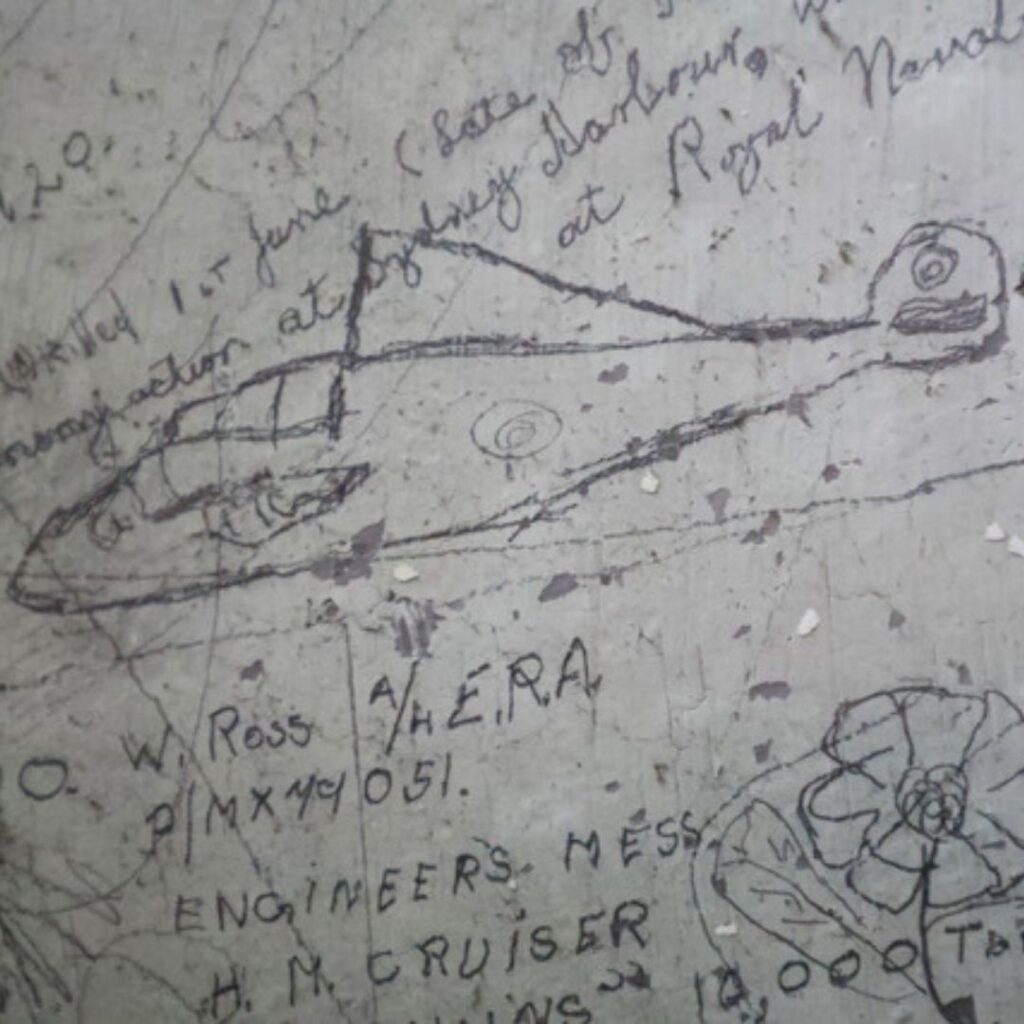 It's a great title isn't it – "if these walls could talk". What would they say? The image above is a photograph taken by Chris Christensen, from one of our church families, who was involved, with his wife Sheila, in putting together our presentation for this year's Virtual Door's Open Day.
This weekend, 12th-13th September, is Doors Open Weekend. If you click on the link below, it will take you to a page on Midlothian Council's Door Open feature.
https://www.doorsopendays.org.uk/
Once you are on the page "If these Walls Could Talk" click on the graffiti image and you will read a little bit about this hidden treasure.
As we live through a time of great change due to the pandemic, it is important to look back to similar times in our history. Newbattle Church records a great deal of history from war time in Britain within its walls.
At the North end of the Church there is a brass memorial in memory of the men of the parish and district who died during service in WWI.  The money to provide this plate was raised by the Women's Guild and contains 152 names, 88 of whom were members of the Congregation.  They came from Newbattle, Lothian Bridge, Easthouses, Newtongrange, Eskbank and Dalkeith. Since this is the only complete register of its kind in the district, as a church, we are co-operating with Newtongrange Community Council in their efforts to have all the appropriate WW1 names added to the Newtongrange Memorial in the Public Park.
In the 1940s, Newbattle gained a unique type of record that is hidden from general view behind the organ – the pencil, graffiti memorial of the image above.  The organ was moved in 1937, as direct consequence of the removal of the South Gallery, to its present position in the South / West corner on ground level.  The organ at this time was driven by hand operated bellows, access to the bellows being through the side door, once referred to as the "Ministers Door", in the south wall.  Newbattle was a Garrison church and as soldiers visited, perhaps helping to pump the bellows, an unofficial record of those who gave of their service during the period on the Second World War and beyond, was written on the walls just inside this door.  Some stationed here, some recovering from wounds and / or traumas (perhaps across the road in the military hospital at Newbattle Abbey), some from local voluntary organisations.  Examples of the many entries are:-
CPO W. ROSS No P/M X 79091, (Born 5th July 1929) c/o Engineering Mess HM Cruiser Hawkins No. 2 Battle Sqn Mediterranean Fleet. Adding in Memory of: ABD TRIST (18) Killed 1st June 1942, due to enemy action in Sydney Harbour, Australia. Late of HM Ships Cornwall, Cossack, Aurora. Buried in the RN Cemetery Sydney 3rd June 1942.
NAN (AGNES) PENNAN, ROTTYBURN, FIFE, ATS S / No W297386 1943.
AC2 ROSS RAF ARBROATHE 14/3/43
T COLLINGWOOD. RAMC 18/01/41
HUGH CARINS, STIRLING A, ARGYLE & SUTHERLAND HIGHLANDERS 1945
A WHITE, NANTWITCH, CHESHIRE, ARGYLE & SUTHERLAND HIGHLANDERS 1945
JOHN S DICKSON, 21ST MIDLOTHIAN BOY SCOUTS
This pencil drawn graffiti raises interesting questions about how we leave our mark on places and the stories that these buildings hold in their walls. I wonder what stories do our church buildings tell about this time in our lives and social history?
Buildings and churches also leave their mark on us too. Some places hold memories of significant times in our lives and are part chapters in our story, landmarks on our journey. What places and churches have been part of your story and journey so far?
Next week, I will tell you the story of Rev Dr Henry Sefton, former minister of Newbattle, who left his mark on a wall, in that his name is recorded on the plaque of ministers in the church. However, he also left a legacy of love and inspiration amongst a number of young people and families in this parish. Henry left his mark on Newbattle but equally, his own life story was about how Newbattle left its mark on him and how it always held a place in his heart.
This week's prayer and music:
Let's sing and pray the words of this hymn that speaks about what our buildings should be all about.