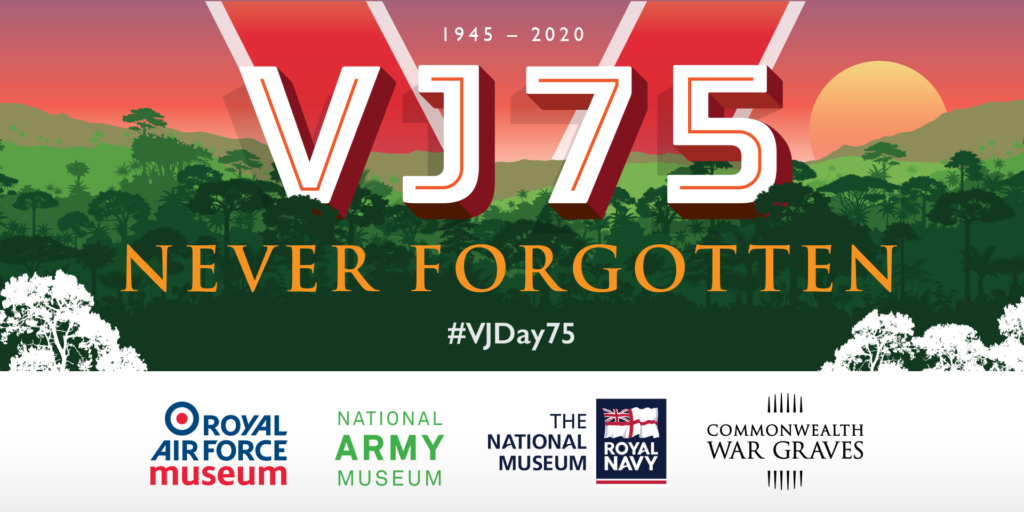 Our Thoughts for the Week in August bring prayer points and words of prayer offered by different parts of the national church. This week's prayers, included in our reflection, come from the Church of England and have been prepared for the 75th anniversary of VJ Day which will be marked on the 15th of August.
Responsory (based on Psalms 84 and 89)
Your salvation is near to those who fear you,
that glory may dwell in our land.
Mercy and truth have met together;
righteousness and peace have kissed each other.
that glory may dwell in our land.
Righteousness and justice are the foundation of your throne;
steadfast love and faithfulness go before you.
Your salvation is near to those who fear you,
that glory may dwell in our land.
Whilst VE Day marked the end of the war in Europe in May 1945, many thousands of Armed Forces personnel were still involved in bitter fighting in the Far East.
Victory over Japan would come at a heavy price, and Victory over Japan Day (VJ Day) marks the day Japan surrendered on the 15 August 1945, which in effect ended the Second World War.
This year we remember the contribution of all Commonwealth and Allied Forces, without whom victory and the freedoms and way of life we enjoy today would not have been possible.
There are many reasons, historical, political, cultural and social for why so many veterans of the war in the Far East have felt forgotten, and why the Fourteenth Army itself became known as the Forgotten Army. You can read some of their stories and learn of their experiences on the British Legion website.
The Kirk Session of Newbattle Parish has pledged not to forget and will take part in this week's commemorations in the following ways:
– By offering this reflection and a series of prayers via Thought for the Week.
– By displaying Remembrance banners and symbols at our church buildings.
– By encouraging our congregation and friends to take part in a national moment of Remembrance on Saturday 15 August. A Two Minute Silence will take place at 11am and will be the focal point of the commemorative service at the National Memorial Arboretum in Staffordshire led by His Royal Highness The Prince of Wales.
This week's prayers (you might like to choose a prayer for each day this week or you may be drawn to a prayer with a particular subject that speaks to you or a friend or family member's experience or military affiliation).
A Prayer for VJ Day
God our Father,
in the dying and rising of your Son Jesus Christ,
you have brought life and salvation out of cruelty and death.
We mark Victory in Japan
in gratitude for the courage of the Allied forces
who suffered for freedom in the Far East campaign
and in sorrow for all that hinders the coming of your kingdom of peace.
Give us wisdom to learn from the bitter memories of war,
and hearts that long for the unity of all nations.
We ask all this in the name of Jesus,
in whom there is no east or west, no north or south,
but one fellowship of love across the whole earth.
Amen.
For those who served and died in World War II
O God of truth and justice,
we hold before you those men and women
who have died in active service,
particularly in the Second World War.
As we honour their courage and cherish their memory,
may we put our faith in your future;
for you are the source of life and hope,
now and for ever.
Amen.
For those who serve today
O Lord God of Hosts,
stretch forth, we pray, your almighty arm
to strengthen and protect our service men and women.
Support them in times of conflict,
and in their rest and training keep them safe from all evil;
endue them with courage and loyalty;
and grant that in all things they may serve without reproach;
through Jesus Christ our Lord.
Amen.
For the peace of the world
O God, who would fold both heaven and earth
in a single peace;
that the design of your great love lighten
upon the waste of our wraths and sorrows
and give peace to your church, peace among nations,
peace in our dwellings and peace in our hearts;
through Jesus Christ our Lord.
Amen.
Sir Francis Drake's prayer
O Lord,
when thou givest to thy servants to endeavour in any great matter,
Grant us also to know that it is not the beginning
but the continuing of the same until it be thoroughly finished
that yieldeth the true glory,
through him for the finishing of thy work laid down his life,
Jesus Christ our Lord.
Amen.
Prayer of Saint Ignatius
Teach us, good Lord, to serve thee as thou deservest,
to give and not to count the cost;
to fight and not to heed the wounds;
to toil and not to seek for rest;
to labour and not to ask for any reward;
except that of knowing that we do thy will.
Amen.
The Naval Prayer
O Eternal Lord God,
who alone spreadest out the heavens and rulest the raging of the sea;
who has compassed the waters with bounds
until day and night come to an end;
be pleased to receive into Thy almighty and most gracious protection
the persons of us Thy servants,
and the Fleet in which we serve.
Preserve us from the dangers of the sea and of the air,
and from the violence of the enemy;
that we may be a safeguard
unto our most gracious Sovereign Lady, Queen Elizabeth,
and her Dominions,
and a security for such as pass upon the seas upon their lawful occasions;
that the inhabitants of our islands and Commonwealth
may in peace and quietness
serve Thee our God;
and that we may return in safety
to enjoy the blessings of the land,
with the fruits of our labours,
and with a thankful remembrance of Thy mercies
to praise and glorify Thy Holy Name;
Amen.
An Army Collect
Almighty God, whose command is overall and whose love never fails,
let us be aware of your presence and obedient to your will.
Help us to accept our share of responsibility with strong heart and cheerful mind.
Make us considerate of those with whom we live and serve,
and faithful to the duties our country has entrusted to us.
Let our uniform remind us daily of the traditions of the Army in which we serve.
When we are tempted to sin, let us resist.
When we fail, give us courage to try again.
Guide us with the light of your truth,
and keep before us the example of Jesus
in whose name we pray and in whom we trust.
Amen.
Royal Air Force Collect
Almighty God, who has promised that they who wait upon thee shall renew their strength and mount up with wings, as eagles, we commend to thy fatherly protection all who serve in the Royal Air Force. Uplift and support us in our endeavour, that we may be a safeguard unto our most gracious Sovereign Lady Queen Elizabeth and a sure defence to our homeland. Help us to fulfil our several duties with honour, goodwill and integrity, and grant that we may prove to be worthy successors of those who by their valour and sacrifice did nobly save their day and generation; through Jesus Christ our Lord.
Amen.