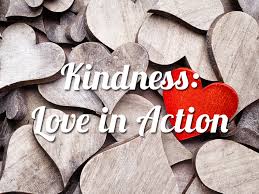 But I say, walk by the Spirit, and you will not gratify the desires of the flesh. For the desires of the flesh are against the Spirit, and the desires of the Spirit are against the flesh, for these are opposed to each other, to keep you from doing the things you want to do.But if you are led by the Spirit, you are not under the law. Now the works of the flesh are evident: sexual immorality, impurity, sensuality,idolatry, sorcery, enmity, strife, jealousy, fits of anger, rivalries, dissensions, divisions envy, drunkenness, orgies, and things like these. I warn you, as I warned you before, that those who do such things will not inherit the kingdom of God. But the fruit of the Spirit is love, joy, peace, patience, kindness, goodness, faithfulness, gentleness, self control; against such things there is no law. Galatians 5 v 16 – 23
"Kindness" (NIV, NRSV), "gentleness" (KJV) is chrēstotēs in New Testament Greek meaning "useful goodness." In our Galatians passage it means, "the quality of being helpful or beneficial; having goodness, kindness, generosity." The word also has the sense of "moral goodness, integrity," making it a word in history that emperors and politicians liked to have engraved next to their name on public inscriptions.
New Testament usage focuses on four facets of kindness: friendliness, compassion, helpfulness, and forbearance.
1. Friendliness. Kindness is friendly, actively seeking to form and foster personal relationships. It cannot exist in a vacuum. Kindness reaches out. "Love is patient, love is kind … it is not self-seeking" (1 Corinthians 13:4, 5). It is the friendliness that inquires about a spouse's rough day, checks in on a friend who lives alone, takes time to listen to a child or elderly relative.
Our model is God's friendly seeking us out, putting aside past hurts to restore friendship. We reflect his kindness, "… for you have tasted the kindness of the Lord"
(1 Peter 2:3). Our future also is secured by God's friendship, "that in the coming ages he might show the incomparable riches of his grace, expressed in his kindness to us in Christ Jesus" (Ephesians 2:7).
2. Compassion. Compassion is the second earmark of kindness: a ready sympathy, a sincere concern for the needs of another. Kindness cares. We make it part of our wardrobe: "Clothe yourselves with compassion, kindness, humility, gentleness and patience," Paul wrote (Colossians 3:12). Imagine that today – you are wearing compassion! "Be kind and compassionate to one another" (Ephesians 4:32). Compassion flows readily to helpfulness.
3. Helpfulness. This third face of kindness is to be generous, willing to extend yourself in practical ways to aid others. A sightless beggar was brought to the Master. The question, "What do you want me to do for you?" (Mark 10:51) characterizes Jesus' manner with people. We've looked at asking for help last week in TFTD, helpfulness is about asking how you can help someone else and involves remembering what has been helpful to us.
4. Forbearance. The fourth face of kindness is uniquely Christian — forbearance in the face of provocation. This links in with our thought from yesterday about patience. Again and again God's response to hostility is an example of kindness. God's "kindness, tolerance and patience" are designed to lead us to repentance (Romans 2:4) to a changing of our behaviour that is hurtful or harmful to ourselves and others. "He is kind to the ungrateful and wicked" (Luke 6:35). The apostle Paul lists the faults and failings of humankind but then writes: "But when the kindness and love of God our Saviour appeared, he saved us…" (Titus 3:4-5; cf. 2 Corinthians 6:6-7).
Kindness is at the very root of the God's nature, and his Spirit is maturing the
Father's kindness in our character.
Today's Prayer:
What was the last kind thing you did? Reflect on this past week and notice if you have shown any of the 4 kindness qualities above. Maybe you have been more kind than you realise! Pray for more of this kindness to come into your circumstances today.
Just watch how kindness works and spreads even in just one street!