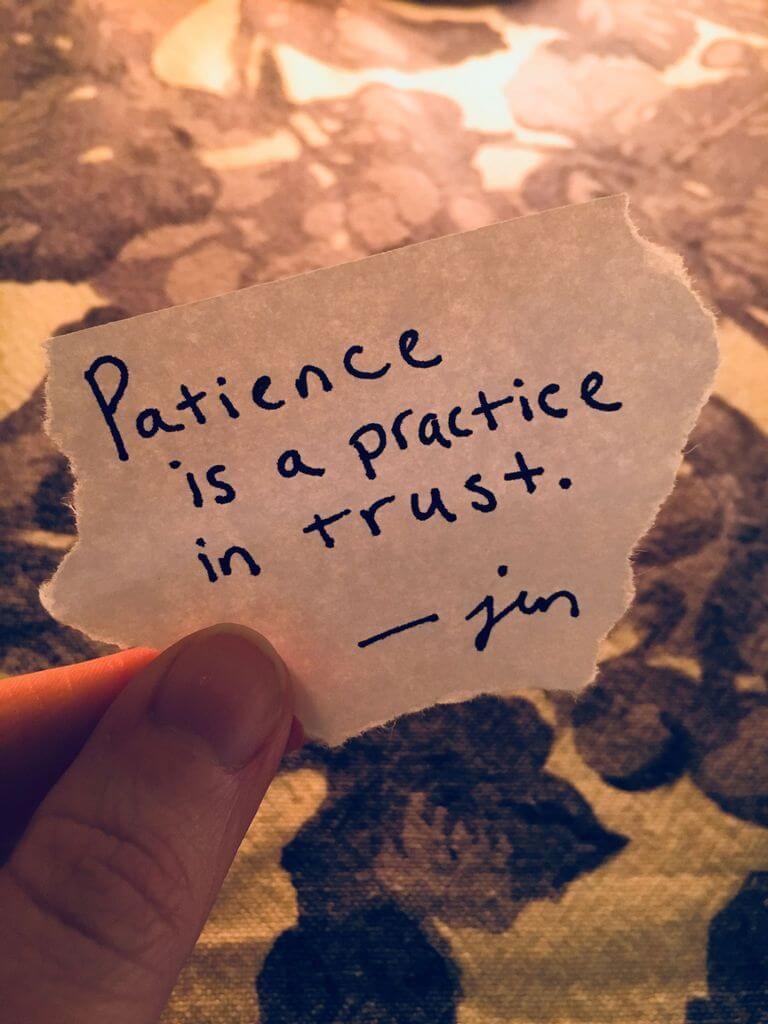 But I say, walk by the Spirit, and you will not gratify the desires of the flesh. For the desires of the flesh are against the Spirit, and the desires of the Spirit are against the flesh, for these are opposed to each other, to keep you from doing the things you want to do.But if you are led by the Spirit, you are not under the law. Now the works of the flesh are evident: sexual immorality, impurity, sensuality,idolatry, sorcery, enmity, strife, jealousy, fits of anger, rivalries, dissensions, divisions envy, drunkenness, orgies, and things like these. I warn you, as I warned you before, that those who do such things will not inherit the kingdom of God. But the fruit of the Spirit is love, joy, peace, patience, kindness, goodness, faithfulness, gentleness, self control; against such things there is no law. Galatians 5 v 16 – 23
"Patience" (NIV, NRSV), "longsuffering" (KJV) in New Testament Greek is makrothymia meaning the "state of being able to bear up under provocation, forbearance, patience toward others." Most people tend to think they are quite patient apart from on occasion when their patience is tested. Actually, it is on these occasions when we most need patience. It's like saying I've got a brilliant umbrella but I've not had to use it yet. How do you know it's brilliant, how do you know you are patient until a test comes? When we do need to wait and take our time, when our instinct is to drive forward, this is when we really see what patience is all about. There's an old joke about a person who prays, "Lord, give me patience — and give it to me right now!"
After nearly 4 months now of lockdown and restriction, we might all claim, quite rightly, that we have had to have a great deal of patience. We have had to wait in queues at the supermarket with only so many people allowed in at a time, we have had to wait to see our friends and family face to face, we have had to wait for the news each day about people we know and don't know who have been ill or who have died and in recent weeks, we have had to wait until the virus peaked and it became safer to move about more freely as the easing of lockdown slowly began.
How are you bearing up? Patience is the personal manifestation of this word makrothymia, bearing up under provocation but the word "forbearance" is how it is expressed in the Christian community. It has to do with "one's long forbearance toward those who oppose or distress one in some way."
The months of lockdown have of course brought many new insights and unexpected blessings but let's acknowledge the stress and the strain there has been on everyone by having our lives so changed and constrained for such a big part of this year.
Last night at the Kirk Session meeting on zoom, we tried to hold together some of the conflicting feelings of this time. There is an impatience about when things can return to what we know and love: when can we re open our churches? We can we get together again? When can we volunteer and help and do the jobs we used to do to serve the community? The government has given some go ahead to reopening church buildings for certain things like private prayer and funerals and the instinct in our long suffering is to jump at the chance to get back to something in the building because it's better than nothing. But is it the right thing?
I think we wondered, if these possibilities in phase 2 and 3 could mean the end of our makrothymia, our time of forbearance. Often this word is paired in the New Testament with another word, hypomonē, "the capacity to hold out or bear up in the face of difficulty, patience, endurance, fortitude, steadfastness, perseverance." Makrothymia stresses the idea of forbearance and patience in difficult times, while hypomonē emphasizes the idea of perseverance and steadfastness during difficult times. So maybe we are coming to the end of the stage of this pandemic where we have had to batten down the hatches and bear up but we are moving into a phase where we must now hold firm and be steadfast in our resolve to do what is safe and best for our family and our community.
Just because we could now open the building for certain things doesn't mean we should. We must look at what facilities we have, what staffing we can put in place, what volunteers are available and eligible to do cleaning and stewarding amongst the public. We must do what is appropriate and right for us in our context. This is the same for all of us as individuals as well as for the Kirk Session who have the responsibility for how the local church operates. It's OK to go at a pace that is right for you. It's OK to say you're not ready yet. It's also OK to take into account that the last few months have taken their toll and that you need rest and recovery time before launching into new efforts and new ways of doing things. I pointed out to the Kirk Session last night that we are nearly at the end of June when normally we would be taking a break from most things in our church programme. People need some sort of summer recess all the more after the last few months. So we're not going to rush it and risk it. Time will come.
I think that there's a natural kind of patience that comes with age and experience. As we get older, we're generally not so anxious about things, because we've discovered that some things take time and can't be hurried. And that's a good thing. But there is also a Holy Spirit fruit of patience that comes from a trust in God that he will bring something to pass when he's ready. Patience is a product of a maturing faith, and comes from walking closely with the Holy Spirit.
Today's prayer:
The fruit of patience should be understood as forbearance, that is, putting up with people around us without exploding, learning that situations have something to teach us and cannot be rushed through. Why is this patient forbearance such an important personal character element? Why is it so important for peace in the family and in the Christian community?
Pray for patience today in your mental and physical health and pray for the church that it will find ways of being church without pushing for busy-ness to return too soon.
Take your time; relax with today's music: