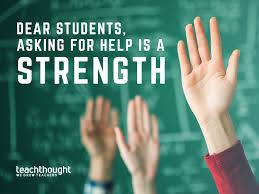 Now Jesus was praying in a certain place, and when he finished, one of his disciples said to him, "Lord, teach us to pray, as John taught his disciples." And he said to them, "When you pray, say:
"Father, hallowed be your name.
Your kingdom come.
Give us each day our daily bread,
and forgive us our sins,
for we ourselves forgive everyone who is indebted to us.
And lead us not into temptation." Luke 11 v 1-4
How good are you at asking for help? As we think more about our daily bread/daily needs and following on from yesterday's thought about our specific needs, let's today consider how we specifically ask for help from others.
Over many years of ministry I have encountered people (there is at least one in every congregation) who do not ask for help but who like to tell anyone and everyone how busy and overworked they are. When people offer them help, they usually won't consider it or refuse it, preferring to be a bit of a martyr. Then there are others who ask for help all the time! They never do anything themselves, always try to get others to do it and often spend their time looking for and complaining about what other people haven't done. There are also many people who try hard to work with others but who always end up taking on too much themselves because "if I don't do it, no one else will (properly!)" and these folk usually either burn out or become very resentful. I'm generalising of course but I'm sure, like me, you not only recognise these types but also identify with them at times yourself.
So how do we break from these stereotypes and find healthy ways to ask for help because the Lord's prayer teaches us to ASK.
Here are some thoughts for today and other days:
Demonstrate that you've tried to help yourself.
Have you ever heard the saying "God helps those who help themselves." My Gran used to say it.
I was reading an article about asking for IT advice and support (who hasn't needed that recently?!) and it said "people are more inclined to want to help those who've attempted to help themselves first. When asking for help, briefly explain what you've tried independently. That way, the person from whom you're requesting help knows you've tried to figure out your problem for yourself before requesting help. ("I tried Googling…"; "I tried restarting my device…") Get to the point fast. Imagine you're giving a bullet point list—and be specific."
Demonstrate that you've acted on the person's advice previously.
This is a big one in churches. It's no fun when you put effort into helping someone and that individual doesn't follow through. People want to help those who they're sure will act on the help or advice offered. Therefore, when you get help from someone who you expect you'll ask for help again, make sure they're aware that you've acted on their prior advice—and appreciated it. It's always ok to ask a follow up question or to build on something from before but asking for the same help again and again and doing nothing with the time and effort someone has given you is a waste for everyone.
We will look at 2 more ways of asking for help tomorrow.
We can hear God's word every Sunday — or every day, if we choose — by going to church. We can read the God's word by reading the Bible whenever we please. But how do we hear Him, and how do we communicate with Him in return? Well, God has given us the power of prayer to speak with Him whenever we feel the time is right. By offering up words of thanks, turning to Him during a time of need, asking specifically or simply meditating on a few key words to centre ourselves throughout the day, we know that God is tuned in to our lives and listening. It's easy for life to get in the way and to forget about this telephone line to God, but the next time you need a quick reminder that God is near, stop, take a breath and pray these 3 words: God, help me.
Today's prayer:
Think about the barriers you have put up that make help difficult to ask for and receive.
Pray the words: God, help me.
Ask and it shall be given unto you…..