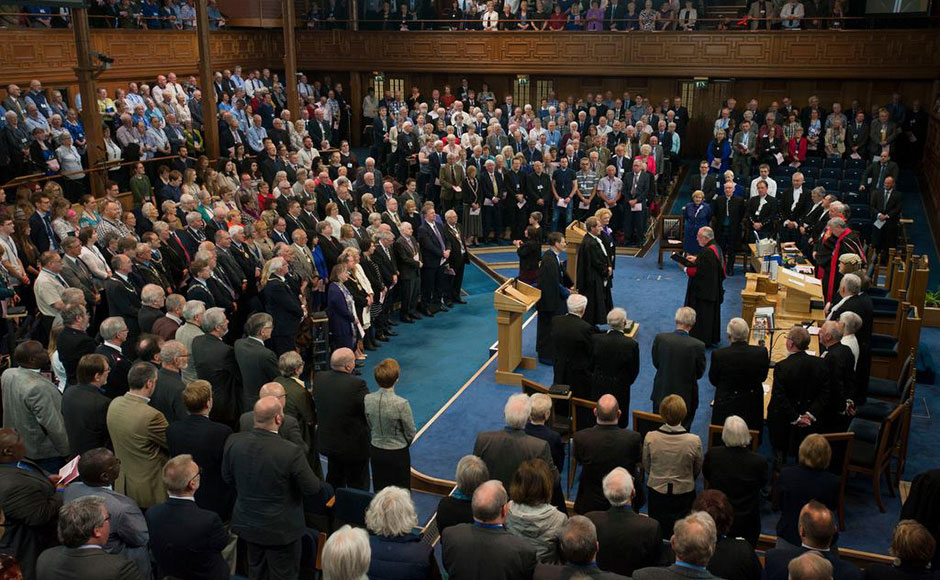 Praise the LORD. Sing to the LORD a new song, his praise in the assembly of his faithful people. Psalm 149 v 1
We've had quite a week looking at some extremely inspirational people in our Thoughts for the Day this week. Today the Church of Scotland's General Assembly begins with the service of installation for the new Moderator at 11am this morning:
https://www.churchofscotland.org.uk/news-and-events/news/2020/watch-the-installation-service-for-the-new-moderator
As this service takes place in a very different way due to the Coronavirus pandemic, one of the things that will be most missed is the wonderful Assembly singing in the hall; hundreds of voices led by a precentor, unaccompanied by any instrument, to praise God in opening worship.
On Wednesday night as our own local court of the church, the Kirk Session, met on zoom to discuss and decide our church business, I asked all our elders and office bearers at the start of the meeting to tell everyone their favourite hymn. What an interesting and varied list we got! We even had a live performance of "For a Closer walk with Thee" (which we had in our Thought for the Day on Monday from Little Richard) led by Walter, one of our elders, on guitar. Music and communal singing is so integral to worship and indeed to community and so I asked Walter, who also plays and sings in our church band, to write an article about music for our church magazine "Focus" which will be out before the end of the month. I'm sure you'll enjoy reading it. Within the article Walter speaks about how much we are missing music just now in all the usual places we hear it: cafes, cinemas, hairdressers, church and he then encourages us to find music in other places and keep singing at home. Just after reading that article, last night I watched a video sent to me my dear friend who is a music teacher, organist and conductor in New York. He explained to me that the musicians on the video (which I will share with you today) are mainly from the Dear Evan Hansen orchestra and that the sound engineer and videographer donated all of their time to this project that would normally cost $25,000. Most of the musicians and singers are unemployed just now as schools and theatres across the city and on Broadway are all closed but behind closed doors, during lockdown, this project has created meaning for so many people. The piece they chose to arrange and perform is the hymn "How Can I Keep From Singing?" a Christian hymn with music written by American Baptist minister Robert Wadsworth Lowry. It is a hymn that speaks of the compulsion to sing when life is beautiful and glorious and how that instinct is also there when life is threatened by conflict, despair and the overwhelming insecurities that change brings. This is a deep hymn of faith that reassures us that as long as we can remember a tune, join in with a song or hear the music, there is hope. Today we don't just have one inspirational person in our Thought for the Day, we remember the ministry of all inspirational singers and musicians who keep the faith and keep on singing.
Today's Prayer:
My life flows on in endless song;
Above earth's lamentation,
I hear the sweet, tho' far-off hymn
That hails a new creation;
Thro' all the tumult and the strife
I hear the music ringing;
It finds an echo in my soul—
How can I keep from singing?
What tho' my joys and comforts die?
The Lord my Saviour liveth;
What tho' the darkness gather round?
Songs in the night he giveth.
No storm can shake my inmost calm
While to that refuge clinging;
Since Christ is Lord of heaven and earth,
How can I keep from singing?
I lift my eyes; the cloud grows thin;
I see the blue above it;
And day by day this pathway smooths,
Since first I learned to love it,
The peace of Christ makes fresh my heart,
A fountain ever springing;
All things are mine since I am his—
How can I keep from singing?