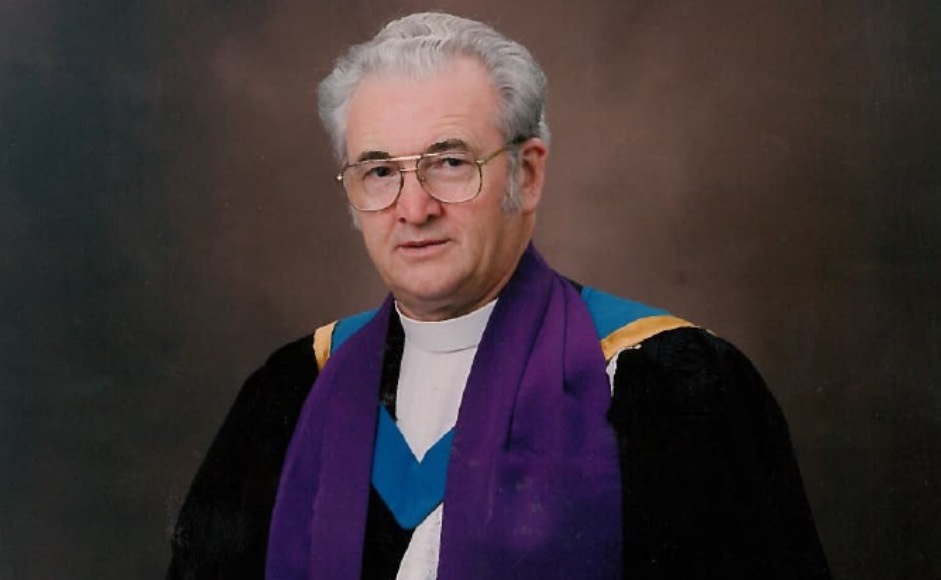 His master said to him, 'Well done, good and faithful servant. You have been faithful over a little; I will set you over much. Enter into the joy of your master.'  Matthew 25 v 21
Tomorrow, the 17th of May, would have seen the opening ceremony of the General Assembly of the Church of Scotland on the Mound in Edinburgh. Due to the Coronavirus pandemic, various alternative arrangements have been made for services and the business of the church to be conducted. Tomorrow there will be a special online service on the Church of Scotland website at 11am for the installation of the new Moderator. As we prepare for that, at the end of a week of looking at inspirational people of faith in our Thought for the Day, I wanted to write a little about a former Moderator of the Church of Scotland.
The Very Rev Dr Sandy McDonald was Moderator of the General Assembly of the Church of Scotland from 1997-98 and was one was one of the public figures who led tributes to Princess Diana upon her death in 1997 in a BBC broadcast. 1997 was also my first General Assembly as a probationer minister nearly at the end of my training. Sandy MacDonald was someone I looked up to as not only was he Moderator, he was a bit of a legend as a preacher. Another Moderator, the Very Rev Lorna Hood once said: "Sandy didn't just preach. He put his whole self into it— his arms, his voice, his whole body went into his sermons. People loved it when he preached." It was my very great privilege and pleasure to meet Sandy when he came to speak to our probationers group at Gartmore House at one of our conferences on preaching. His talk was funny, touching, inspirational. One of the things I remember in particular was show he spoke about preparing to preach. Not just about writing your content but getting into the right frame of mind. He spoke about his son, an actor, on the stage in plays in London at that time, who spent 3 hours before each performance doing vocal exercises and other warm up preparations and asked us why we would not put in similar preparations for our most important task in our profession.
My first charge in Bishopton in Renfrewshire turned out to be in the Presbytery of Paisley, where Sandy, had been a parish minister in the bounds at St Mark's, Ralston and where he continued to have a seat when he was General Secretary of the Church of Scotland's Board of Ministry, from 1998 until his retirement in 2002. Dr McDonald was an absolute advocate for ministers. During his tenure ministers' stipends were raised, benefits were improved and ministers were encouraged to see themselves as uniquely qualified professionals. Again, all these things made Sandy a bit of a legend and someone I was in awe of but over the years, working together in the Presbytery, I got to know him as a colleague who respected me and treated me as an equal. I remember being at a service in Paisley for a new initiative of 3 churches becoming a maxi parish with a team ministry and Sandy was giving the sermon. It was, as usual, a very engaging and inspiring piece of preaching but during it, a wee Paisley woman in front of me nudged her pal beside her and said "That's Dr Who's Dad." Yes, in the later years of his life, that became his claim to fame!
It was with great sadness that I learned of Sandy's passing in 2016 at the Erskine Care Home for ex-servicemen in Bishopton, formerly Erskine Hospital, in my old parish where I had been Chaplain until 2009.
The tributes from across the church came flooding in. "Beloved by those who knew him, Dr McDonald's fearlessness, generosity and irrepressible high spirits made an impact everywhere he went".
"He was a great pastor and he held parish ministry at the heart of the Church."
The Church of Scotland website contained the following biography highlighting Sandy's service and outstanding contributions to the life of the church and indeed society:
"As Moderator from 1997-98, Dr McDonald's friendly, approachable and outspoken manner left behind some of the formality that had characterised the role, setting a new tone that heralded the 21st Century. He has sometimes been referred to as "the people's Moderator."
Born in Bishopbriggs, Glasgow, to Jessie Helen Low and Alexander M. McDonald, Dr McDonald worked in the timber industry as a trainee manager from 1952-1958. During that time he took a two-year break when he was called up to do national service, enlisting in the Royal Air Force where his duties included operating ground radar for the 617 Dambusters. He worked in the timber trade from 1958 till 1962 when he responded to God's call and decided to train for the ministry.
Dr McDonald studied theology for the ministry at the University of Glasgow and Trinity College, graduating later with a BA from the Open University, which subsequently granted him a Doctorate, in honour of his work as Moderator of the General Assembly.
He served as an assistant minister at Merrylea Parish Church in Newlands, Glasgow, before being called as minister to St David's in Bathgate, in 1968. As chaplain to the town's British Leyland plant, he spoke out for workers during a period of industrial action.
In 1974 Dr McDonald went to became minister of St Mark's Oldhall Parish Church, Ralston in Renfrewshire, Paisley, where he helped found a young ministers' fraternal group that still meets today as part of the Presbytery of Paisley. He served as President of the Glasgow and Paisley Battalions of the Boys Brigade. He had a BB badge on every jacket he owned.
One of Dr McDonald's passions was for the Church's Summer Mission, which every year took hundreds of young people to the seaside.
Very Rev John Chalmers, the Church's Principal Clerk, has known Dr McDonald since the 1970s and worked with him during the 20 years he served as Secretary of the Ministries Council.
"Working with Sandy Macdonald was one of the great pleasures of my career in ministry," Mr Chalmers said. "Sandy would be best described as an enthusiast and the Church of Scotland benefited from that enthusiasm from the day and hour that he committed his life to its ministry."
"It was no surprise to me when Sandy called for a serious dialogue on the right to die, he was a man who tempered his views in the light of reality; he was a man who sat lightly to dogma and who preferred faith in action. The Church of Scotland needs a new breed of Sandy McDonalds who catch a passion for the good news of Jesus Christ, but whose understanding of the faith is not frozen in time, but develops and matures with new revelation and understanding."
Rt Rev Dr Angus Morrison said Dr McDonald was so generous and cheerful that even during his final illness visitors would leave feeling uplifted and encouraged.
"'Dr Sandy McDonald was a wonderful man and minister," Dr Morrison said. "Genuine love for people was a defining mark of his ministry. He had a special concern for the well-being, at every level, of his fellow-ministers. Sandy's memory will be cherished by many."
Retired minister John Campbell, one of Dr McDonald's closest friends, was his partner in Summer Mission for close to 20 years.
Together their churches would take up to 40 children to Ayr, Girvan or Millport, where the group would stay in a church hall and enjoy games, dressing up, pageants, musicals and barbecues on the beach. Parents would visit on the weekends and on Sundays as many as 200 people would attend the open-air afternoon service.
Through Bible study and discussion young people would gain confidence to share their faith, Mr Campbell said:
"Sandy and I always have always maintained that whatever we would achieve in our ministries –and Sandy of course achieved so much—that probably our most significant achievement would be what we did with young people in seaside mission.
"Sometimes in ministry it is hard to see results, but to see young people coming to faith and getting involved in the life of the church. We still bump into people who remember summer mission with great affection.
"It's been a very great privilege to have been part of that with Sandy."
Rev Robert S.T. Allan, minister Falkirk Trinity Church said it is thanks to Dr McDonald's influence that he became a minister. Mr Allan said:
"Sandy was like a father in the faith to me. He was an outstanding and inspiring preacher, bursting with energy and commitment. He touched many, many people with his infectious sharing of the Good News of the Gospel. He was down-to-earth, a real man of the people, a minister to whom all ages could relate.
"Sandy was a man of humility and graciousness, a man of real compassion, and ministers throughout the country will mourn his passing for he was devoted in trying to secure support for the women and men of ministry."
Pauline Wilson, Dr McDonald's personal assistant for some of his time at 121 George Street, became a lifelong friend. His caring, encouraging personality made a difference to everyone he worked with she said.
"His pastoral concern for those experiencing a personal crisis or difficult time in their ministry was shown in very practical ways. He would travel for hours each week to visit people personally, and the love and care he showed to his minister colleagues across the country was really appreciated by all of those concerned.
"He saw the potential in people and encouraged them to reach it. Having Sandy spur me on was just what I needed when I lacked a bit of confidence. I think he was the same with everyone. Time spent with Sandy always made you feel better about yourself, and that's a rare gift to possess."
A natural media personality, Dr McDonald co-presented STV's religious magazine programme 'That's the Spirit' during the 1980s, and was a guest on other religious shows. Later on he also appeared with his actor son, David Tennant, as a guest on Ready, Steady Cook and in a background role on Dr Who.
In early 2015 Dr McDonald disclosed he was fighting the degenerative lung disease pulmonary fibrosis. He spoke out for the "right to die," despite the Church's official position against the proposal.
Dr McDonald was married to his wife Helen, daughter of footballer Archie Mcleod, for more than 40 years until her death in 2007. Their strong marriage was widely seen as a true partnership of two distinct individuals who loved one another and also cared deeply about the lives of those around them.
Dr McDonald is survived by his three children: Karen, a schoolteacher; Blair, a music industry executive; and David, the actor who works under the name David Tennant; and by nine grandchildren." (CofS website archive)
As we prepared to install a new Moderator tomorrow, we give thanks for the life and witness of The Very Rev Dr Sandy MacDonald and we commit to live in the light of his legacy to church and nation.
Today's prayer: