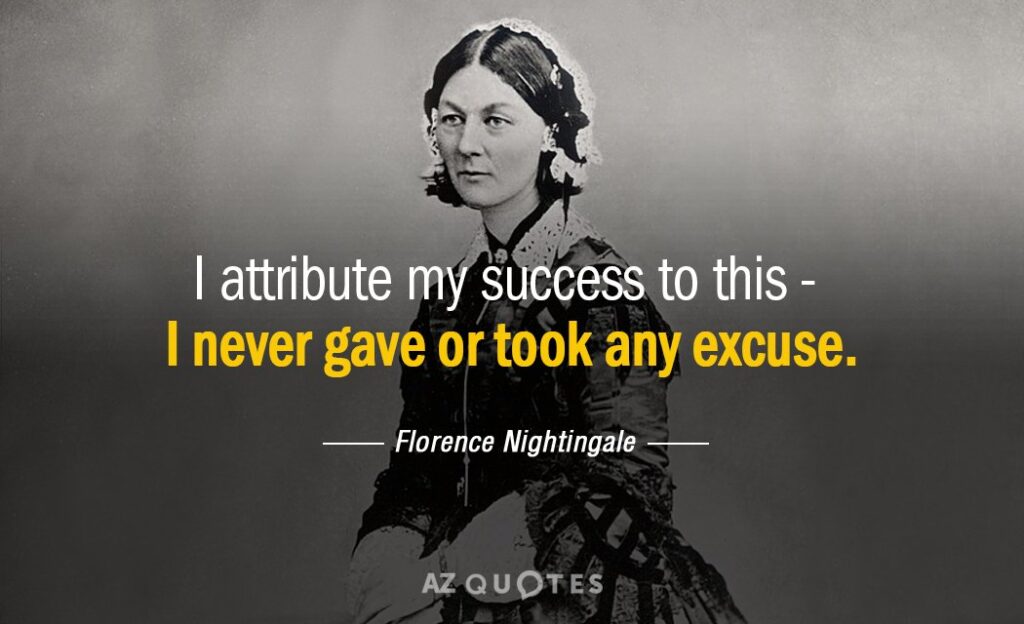 "They will be divided, father against son and son against father, mother against daughter and daughter against mother, mother-in-law against daughter-in-law and daughter-in-law against mother-in-law." Luke 12 v 53
During these days of the Coronavirus we are used to hearing about the huge Nightingale hospitals named after "Britain's Queen of Nursing" built across the country to cope with the pandemic. Many recognize Florence Nightingale from history as a nurse who gave her entire life to the cause of alleviating conditions for the poor, especially in hospitals and workhouses, particularly during the Crimean War. What many don't know is that Nightingale was a radical theologian and it was her mission to change things. She knew that she was guided by God and used the knowledge and strength provided by Him to write and publish several books on hospital planning and organization which helped save thousands of lives. She also realized God's role for women and did a lot to help the movement of women, showing that nursing was an acceptable role for women to take. She is certainly an example of how God can use an ordinary person to do extraordinary things.
Alhough she did not think of herself as deeply religious, on February 7, 1837, when she was scarcely 17 years old, she felt that God spoke to her, calling her to future "service." From that time on her life was changed. At first the call disturbed her. Not knowing the nature of the "service," she feared making herself unworthy of whatever it was by leading the frivolous life that her mother and her social set demanded of her. Florence was given to periods of preoccupation, or to what she called "dreams" of how to fulfil her mission. Meanwhile she spent all her spare time visiting the cottages on her family estate and bringing poor people food and medicine.
When a family friend died in childbirth, Florence begged her parents to let her stay at the country home all year round to take care of the baby instead of them making her go to London for the winter social season. They vetoed the idea, believing she should mingle in society, eventually choose a husband, and bear children of the family bloodline. In London one of her suitors again pressed her for an answer to his marriage proposal. She liked him, but she could not bring herself to say yes, especially when she did not know what "service" lay ahead.
Visiting her family home at the time were Dr. Howe and his wife, Julia Ward Howe (author of the "Battle Hymn of the Republic"). Florence asked Dr. Howe, "Do you think it unsuitable and unbecoming for a young Englishwoman to devote herself to works of charity in hospitals and elsewhere as Catholic sisters do? Do you think it would be a dreadful thing?" He answered that it would be unusual and "whatever is unusual in England is thought unsuitable." Nonetheless he advised her, "Act on your inspiration."
If Florence was to consider nursing her calling, her "service"—and she was beginning to believe it must be—then she needed to go against her parents ideas and seek training. She proposed going to an infirmary run by a family friend. Her parents were shocked, horrified, angry! She was a gentlewoman! Their objections were understandable. In that era English hospitals were places of degradation and filth. The "hospital smell" was literally nauseating to many, and nurses usually drank heavily to dull their senses. Florence herself admitted that the head nurse of a London hospital told her that "in the course of her long experience she had never known a nurse who was not drunken, and there was immoral conduct in the very wards."
However, politics, not nursing expertise, was to shape her next move as the Crimean War broke out in 1853 between Turkey and Russia with Britain an ally of Turkey. The status of the care of the wounded in the newspaper reports stated that soldiers were treated by an incompetent and ineffective medical establishment and that the most basic supplies were not available for care. The British public raised an outcry over the treatment of the soldiers and demanded that the situation be drastically improved. Sidney Herbert, secretary of state at war for the British government, wrote to Nightingale requesting that she lead a group of nurses to Scutari. Nightingale led an officially sanctioned party of 38 women, departing on October 21, 1854, and arriving in Scutari at the Barrack Hospital on November 5. Not welcomed by the medical officers, Nightingale found conditions filthy, supplies inadequate, staff uncooperative, and overcrowding severe. Few nurses had access to the cholera wards, and Nightingale, who wanted to gain the confidence of army surgeons by waiting for official military orders for assistance, kept her party from the wards. Five days after Nightingale's arrival in Scutari, injured soldiers from the Battle of Balaklava arrived and overwhelmed the facility. Nightingale said it was the "Kingdom of Hell."
In order to care for the soldiers properly, it was necessary that adequate supplies be obtained. Nightingale bought equipment with funds provided by the London Times and enlisted soldiers' wives to assist with the laundry. The wards were cleaned and basic care was provided by the nurses. Most important, Nightingale established standards of care, requiring such basic necessities as bathing, clean clothing and dressings, and adequate food. Attention was given to psychological needs through assistance in writing letters to relatives and through providing educational and recreational activities. Nightingale herself wandered the wards at night, providing support to the patients; this earned her the title of "Lady with the Lamp." She gained the respect of the soldiers and medical establishment alike. Her accomplishments in providing care and reportedly reducing the mortality rate to about 2 percent brought her fame in England through the press and the soldiers' letters. In May 1855 Nightingale began the first of several excursions to Crimea itself; however, shortly after arriving, she fell ill with "Crimean fever"— Nightingale experienced a slow recovery, as no active treatment was available. The lingering effects of the disease were to last for 25 years, frequently confining her to bed because of severe chronic pain.
At the end of the war, Florence returned home as a reluctant heroine. Although primarily remembered for her accomplishments during the Crimean war, Nightingale's greatest achievements centred on attempts to create social reform in health care and nursing. In September 1856 she met with Queen Victoria and Prince Albert to discuss the need for reform of the British military establishment A Royal Commission was established, which based its findings on the statistical data and analysis provided by Nightingale. The result was marked reform in the military medical and purveyance systems.
In 1855, as a token of gratitude and respect for Nightingale, the Nightingale Fund was established. Through private donations, £45,000 was raised by 1859 and put at Nightingale's disposal. She used a substantial part of these monies to institute the Nightingale School of Nursing at St. Thomas' Hospital in London, which opened in 1860. The school formalized secular nursing education, making nursing a viable and respectable option for women who desired employment outside of the home. The model was taken worldwide. For these reasons she is considered the foundational philosopher of modern nursing.
Additional reforms were financed through the Nightingale Fund, and a school for the education of midwives was established at King's College Hospital in 1862. Believing that the most important location for the care of the sick was in the home, she established training for district nursing, which was aimed at improving the health of the poor and vulnerable.
Disappointing her parents and separating from her family, foregoing marriage and children of her own, becoming very ill herself – these were the sacrifices and the less seen aspects of Florence Nightingale's life that is so well documented for it's influence and achievements to nursing and care. It is this same calling to selfless, conscientious duty that most of our NHS nurses respond to today and indeed their service within this current pandemic is something Florence Nightingale would be proud of.
As we clap for our carers tonight at 8pm, let us thank them for their sacrifice, their conscientious service and their commitment to responding to the call to do God's work in time of need.
Today's prayer: