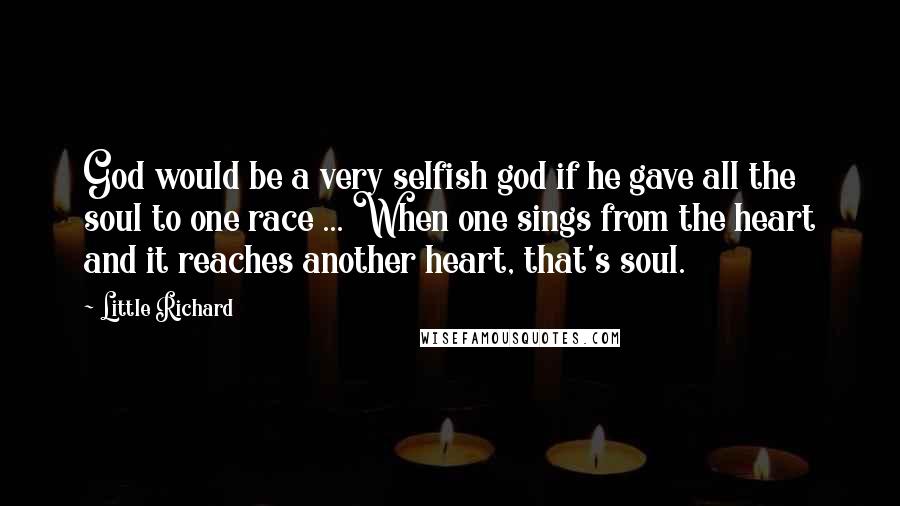 And so it was, whenever the spirit from God was upon Saul, that David would take a harp and play it with his hand. Then Saul would become refreshed and well, and the distressing spirit would depart from him. 1 Samuel 16 v 23
Little Richard, whose original name is Richard Wayne Penniman, was born on the 5th of December, in Macon, Georgia. He died just 2 days ago on Saturday the 9th May 2020 in Tullahoma, Tennessee. The flamboyant American singer and pianist whose hit songs of the mid-1950s were defining moments in the development of rock and roll begins for us a week of thoughts about inspirational people of faith.
The assurances of faith were acknowledged at the beginning, middle and end of Little Richard's life and experienced by him in ways that were in stark contrast to other times throughout his life when he knew great struggle, prejudice and disillusionment. Richard was the 3rd of 12 children. His father, Bud, was a stern man who made his living selling moonshine and didn't do much to hide his disdain for his son's early signs of homosexuality. At the age of 13 Richard was ordered to move out of the family home, and his relationship with his father was never repaired. When Richard was 19, his father was shot dead outside a local bar.
The childhood that Richard did manage to have was largely shaped by the church. Two of his uncles, as well as his grandfather, were preachers, and Richard was involved with the Pentecostal church as much as anyone in his family, singing gospel and eventually learning to play the piano.
Although experiencing homophobic and racist remarks throughout his life, when he was thrown out of the family home at 13, Richard was taken in by a white family who owned a club in Macon, where Richard eventually began performing and honing his musical talent. It was then, as a teenager, that he took the name "Little Richard," achieving notoriety for high-energy onstage antics. After that, his first recordings in the early 1950s, were produced in the soothing jump-blues style of Roy Brown which showed none of the soaring vocal reach that would mark his later singing.
However, his breakthrough came in September 1955 at a recording session at J and M Studio in New Orleans, Louisiana, where Little Richard, backed by a solid rhythm-and-blues band, howled "Tutti Frutti," with its unforgettable exhortation, "A wop bop a loo bop, a lop bam boom!" In the year and a half that followed, he released a string of songs that sold well among both black and white audiences: "Rip It Up," "Long Tall Sally," "Ready Teddy," "Good Golly Miss Molly" and "Send Me Some Lovin'," among others. Blessed with a phenomenal voice able to generate croons, wails, and screams unprecedented in popular music, Little Richard had many influential hits that transformed popular music forever. Along with Elvis Presley's records in the mid-1950s, Little Richard's sessions from the same period offers a model of singing and musicianship that have inspired rock musicians ever since.
But as his success soared, Little Richard, fuelled by his earlier connections to the church, saw his doubts about the rock lifestyle deepen. In 1957 he abruptly and publicly stopped performing rock, enrolled in Bible College and committed himself to a preaching ministry and to the recording of gospel songs. He recorded his debut religious album, God Is Real, in 1959 famously saying "I gave up Rock and Roll for the Rock of Ages".
Then in 1964, when the Beatles skyrocketed onto the music scene, they sang several of Richard's classic songs and openly acknowledged their debt to their musical hero. This renewed attention inspired Little Richard to return to the stage and the recording studio for another shot at stardom.  In later years, the once-dynamic performer retreated from the concert stage falling ill during a show in Washington, D.C., during the summer of 2012. The following September, Little Richard suffered a heart attack. He described the incident during an interview in Atlanta saying: "The other night, I didn't know I was having a heart attack. I was coughing, and my right arm was aching.' He took a baby aspirin, which his doctor credited with saving his life but the deeply religious music icon attributed his survival to a higher power saying: "Jesus had something more for me. He brought me through." Little Richard was one of the 10 original inductees into the Rock and Roll Hall of Fame. He was a recipient of a Lifetime Achievement Award from the National Academy of Recording Arts and Sciences and a year later the Rhythm & Blues Foundation honoured him with its prestigious Pioneer Award. Having weathered a career marked by extraordinary changes in direction, Little Richard survived not only as the self-proclaimed "architect of rock and roll" but also as an example of an inspirational person of faith.
The bible talks of the soothing and healing power of music as we see in our text today about David playing the harp for Saul. However, music is also often the key to true worship because it unlocks the heart. Inspirational musicians who attribute their gift to God, soothe our minds and touch our souls. Infact, soul music as a genre is well defined by Little Richard who said: "when one sings from the heart and it reaches another heart – that's soul".
Today's prayer:
The Musician's Prayer (Anon)
Oh Lord, please bless this music that it might glorify your name. May the talent that you have bestowed upon me be used only to serve you.

Let this music be a witness to your majesty and love, and remind us that you are always watching, and listening, from your throne above.

May your presence and beauty be found in every note, and may the words that are sung reach the hearts of your people so they will draw closer to you.

May your Spirit guide us through every measure so that we might be the instruments of your peace, and proclaim your glory with glad voices.

Amen