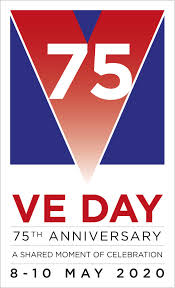 Everything that happens in this world happens at a time God chooses.
He sets the time for sorrow and the time for joy,
the time for mourning and the time for dancing. Ecclesiastes 3 v 1,4
Following the military surrender signed by Germany on 7th May, Victory in Europe was declared on 8th May 1945 to signal the end of the Second World War. Celebrations erupted all over Britain with crowds gathering at local landmarks to rejoice. Crowds were encouraged to wear patriotic red, white and blue. Local communities came together to host joyous street parties, dances and sing-songs all across the country; many lasting until the small hours of the morning. During Edinburgh's VE Day celebrations, chocolates and chewing gum were showered upon the thousands of young people who had gathered in the streets of the city centre. It was also reported that a marine conducted a community sing-song of war-time favourites such as, 'Roll Out The Barrell' and 'Land of Hope and Glory' as paper confetti and flags waved throughout the bustling streets.
Here are VE day memories of Elizabeth MacAulay, one of our church elders from the Kirk Session:
"Memories!
My parents' relief, us all listening to Mr Churchill's announcement.
Then – after going to bed, but not sleeping for the excitement-
"Three cheers for Geordie Pyatt, Geordie Pyatt, Geordie Pyatt,
Three cheers for Geordie Pyatt
At three o'clock in the mornin'."
Geordie was giving out free drinks in his wee pub round the corner. The singing went on for hours, the old wartime songs which had kept us all going.
Arbroath had been a peaceful place for us after months of the blitz in Manchester, going to bed in the air raid shelter, bombing every night, seeing the city burning from our suburb, living with constant soot falling, and scarce food. But we as children were aware still of the tension, with few men around in the town, the doctor next door 'very old ' to us, coming out of retirement to run the practice for his son in law, the constant activity at HMS Condor, a naval air station two miles away, Mother driving a canteen van around various neighbouring airfields, queuing for our rations.
I was 9 years old, but have never forgotten that singing."
Today we will all join in the celebrations in different ways. Even if we have no first hand memories, we remember what this day meant for our country and the whole of Europe. "A time for mourning and a time for dancing"….our bible text says today. It often occurs to me that these things can in fact happen at the same time and that we actually have a mixture of emotions. I'm sure VE day was a day of huge relief and joy and was indeed a time for dancing but of course it is important to note that amongst the celebrations, the war in the Far East continued and throughout Europe itself, many families would also have been mourning the loss of their loved ones.
Our activities today, in lieu of the street parties or other gatherings we might have hoped to have, are a mixture of joyful and reflective things.
Activities:
1 Read first-hand accounts of how people in Scotland celebrated VE Day on 8th May 1945 on the Poppy Scotland website.
2 Watch the Scottish celebrations of VE Day like this street procession in Dumbarton, also on the Poppy Scotland website below:
http:www.poppyscotland.org.uk/veday75/
3 Under rationing, home cooks had to get inventive with their baking. To overcome the lack of eggs, recipes would often call for mashed potatoes to be used instead. How about this version of Scottish shortbread! Have a read at this recipe or even have a go at making it! Imagine what life was like during rationing.
4 Music and Dance – Dancing was one of the most popular pastimes in Britain, with young men and women flocking to local dancehalls, ballrooms and church halls to dance their cares away. These places offered a friendly atmosphere and much needed escape from the everyday challenges faced during the war. Civilians socialised with local and overseas forces. In the early 1940s, American troops introduced British dancers to new fastpaced dance crazes like the Lindy Hop and Jitterbug. On VE day people danced in the streets – do you know any of the moves? Could you learn or watch a video?
London born singer Vera Lynn, affectionately known as the 'Forces Sweetheart' had her own radio show, "Sincerely Yours – Vera Lynn", where she passed on messages to troops serving overseas from their loved ones. The show was immensely popular with over 2000 requests for messages a week. On VE Day, many celebrated that they would meet again with their family and friends but also thought of the fallen who they hoped to see again in heaven one day.
Today's prayer: Tribute to the Millions
You are asked to share it within your household or with someone on the phone and if possible to raise a glass of an appropriate liquid as a toast at 3pm on this afternoon of Friday 8 May 2020.