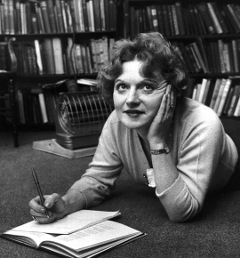 Before a word is on my tongue you know it completely, O Lord. Psalm 139 v 4
Reading the bible over time, it becomes obvious that many of it's books are penned in poetic style. Instantly you may think of the Old Testament (Job, Psalms, Proverbs, Ecclesiastes, and Song of Solomon) but even in the New Testament, poetic language is employed with great skill and effect: "Consider the lilies; they toil not".
Perhaps, like me, you had the opportunity to study the war poets at school. However, as we prepare this week to mark the 75th anniversary of VE day, I realised that when war poets are mentioned they are usually those of the First World War and I could not bring to mind a poet from WW2. There are many excellent Second World War poets whose fame has never burned as brightly as that of Owen and Sassoon and others of their generation. Perhaps this is because some of the poetry of WWII can seem less intense, as more of the fighting was at a distance compared to the trench warfare of WWI. And yet, by its conclusion in 1945, World War II had become the single deadliest conflict in history. Over 25 million soldiers had lost their lives, as well as 55 million civilians, including 11 million killed in concentration camps. Perhaps having the poems of the First Word War in their awareness, WW2 poems written by former soldiers, conscientious objectors, civilians, editors, and journalists working at home tended to focus more on the impact of war rather than it's theatre and mechanics. The poems of WW2 demonstrate an acute attention to the horror, sacrifice, and sublime reckoning of the conflict.
There are also many British writers who served in the forces during the Second World war who did not write about the subject directly but whose literary lives were influenced and shaped by their experiences.
Writer and poet Roald Dahl, at the start of World War II, joined the Royal Air Force in Nairobi and survived a crash landing in the Libyan desert—Dahl's first prose was an account of this crash. He then began writing for children while raising five children of his own after the war with his wife, trying to provide an imaginative yet cautionary landscape for them to grow up in.
Born and raised in Edinburgh, Scottish poet, essayist, and novelist Muriel Spark, educated at James Gillespie's High School for Girls and Heriot-Watt College, worked in military intelligence during World War II before turning to writing full-time. At the end of the war, from 1947 to 1949, she served as an editor for the Poetry Review, the literary journal of the Poetry Society capturing some of the pieces inspired and influenced by the events of WW2. As well as going on to write her infamous novel "The Prime of Miss Jean Brodie", she had served her country and in 1993, she was made a Dame Commander of the Order of the British Empire.
Today's suggested activity is that you might like to try to write a poem or prayer for VE Day 75. For those who enjoy experimenting or playing with words or simply want to share their thoughts writing a poem or prayer to commemorate this special occasion could be very powerful. I would be pleased to read them if you wold like to share them with someone. If writing is not your thing then perhaps you might like to read one poem today by a war poet (someone who writes about war) or a WW2 poet, who lived and served during WW2 and then wrote works inspired by their experiences.
Whether you write or read today, it is also worth remembering the poetic words of the Psalmist who says "Before a word is on my lips Lord, you know it completely". When we open our hearts and minds to God, this is a prayer in itself. Although the end of the Second World War is indeed something to still mark and celebrate, the cost of war and the things of war that people suffered and endured, left lasting scars on humanity that words can never fully express. It is for this reason that holding a silence has become such a vital part of our ritual of remembrance. Muriel Spark put this beautifully: "It is well, when in difficulties, to never say a word. Speech is silver but silence is golden."
Today's prayer: