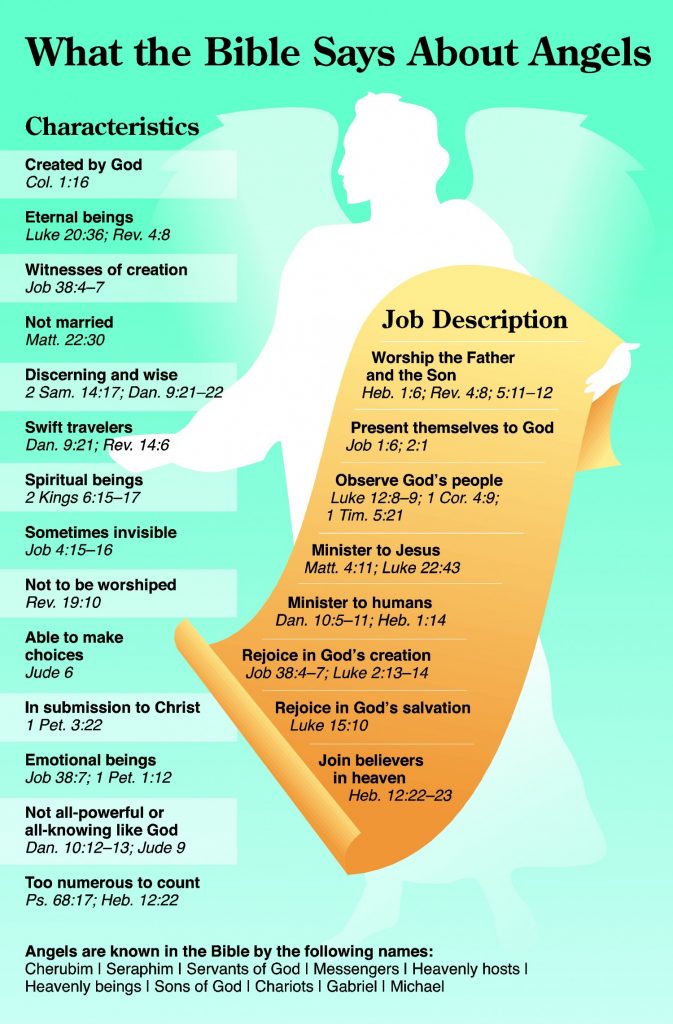 Then the Devil left Jesus; and angels came and helped him. Matthew 4 v 10
As we come to the end of a week looking at the temptation story in the gospel, we finish on a verse about angels. Throughout his life, angels provide significant service to Jesus Christ and their presence and ministry to Christ emphasizes His divinity as the Son of God. (Hebrews 1 v 4-14)
ANGELS FORETOLD HIS BIRTH…
1. Gabriel appeared to Mary – Lk 1:26-38
2. An angel appeared to Joseph in a dream – Mt 1:18-21
ANGELS ANNOUNCED HIS BIRTH…
1. First, a single angel to the shepherds in the field – Lk 2:8-12
2. Then, a multitude of the heavenly host praising God – Lk 2:13-15
ANGELS PROTECTED HIM IN INFANCY…
1. By warning Joseph in a dream to flee to Egypt – Mt 2:13
2. By telling Joseph in a dream to return to Israel – Mt 2:19-20
ANGELS MINISTERED TO HIM AFTER THE TEMPTATION…
1. After the devil had left Him – Mt 4:11; Mk 1:13
ANGELS STRENGTHENED HIM AT GETHSEMANE…
1. As He struggled in prayer and agony – Lk 22:41-44
ANGELS ROLLED AWAY THE STONE AT THE TOMB…
1. Sitting on the stone after doing so – Mt 28:2
2. Terrifying the guards at the tomb by his appearance – Mt 28:3-4
ANGELS APPEARED FOLLOWING HIS RESURRECTION…
1. To the women(who had gone to tell Peter and John upon seeing the stone removed from the tomb) – Mt 28:
5-7; Mk 16:5-7; Lk 24:4-7,22,23; Jn 20:1-2
2. To Mary Magdalene who went into the tomb after Peter and John left – Jn 20:11-13
ANGELS ATTENDED HIS ASCENSION…
1. As two men in white apparel – Ac 1:9-10
2. Announcing the promise of His return – Ac 1:11
I wonder what you think of angels? Do you think of angels? From a biblical point of view, as we've already mentioned today, the ministry of angels emphasize the deity, the holiness of Christ and serve as an example to us. As we see them serving Him, as we see them praising Him, hopefully, our study of angels will encourage us in the same direction: to serve Christ and to praise Christ.
However, the bible also speaks of angels, not just as characters of the past but as agents in the present and the future. Angels reveal things to take place – Re 1:1; 22:16 and they will accompany Christ's second coming. They also separate the wicked from the just – Mt 13:49-50
Throughout the stages of your own life, perhaps you have been aware of angels being sent to minister to you at key times just as Jesus was. Sometimes we do not recognise them at the time but when we look back we notice the hand they had in guiding our next steps and helping us to keep going. Angels reveal things to us, separate right from wrong for us and demonstrate messages from God in memorable interactions. Today, remember and give thanks for angels at key stages in your life and then think in particular who your lockdown angels are. Be open to the ministry of angels today. For as it says in Hebrews 13 v 2 "Do not forget to show hospitality to strangers, for by this some have entertained angels unaware".
Today's prayer: