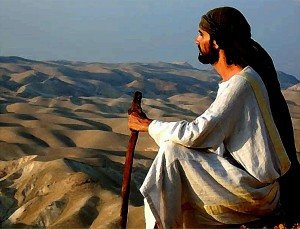 Jesus returned from the Jordan full of the Holy Spirit and was led by the Spirit into the desert, where he was tempted by the Devil for forty days. Matthew 4 v 1-2
In this post Easter season, it's not too hard to recall the 40 days of Lent that the church observed in the weeks before Easter Sunday. Whatever we did for Lent might seem like a very distant memory but this week we are going to look at how the themes and practices of Lent perhaps mirror own lockdown experience. The central passage that gives the Lenten season it's structure is the story of the temptation of Jesus in the desert or wilderness and we will take this story stage by stage this week.
Yesterday I read some words by Father Richard Rohr, Director of the Centre for Action and Contemplation who at this time, is writing for his community on the idea of "liminal space".
Father Richard explains: "Liminal space is an inner state and sometimes an outer situation where we can begin to think and act in new ways. It is where we are betwixt and between, having left one room or stage of life but not yet entered the next. We usually enter liminal space when our former way of being is challenged or changed—perhaps when we lose a job or a loved one, during illness, at the birth of a child, or a major relocation. It is a graced time, but often does not feel "graced" in any way. In such space, we are not certain or in control. This global pandemic we now face is an example of an immense, collective liminal space."
Like Jesus in the desert for 40 days, as we enter a second month of lockdown, we realise more and more that this is an in between time. Jesus had been preaching, teaching and healing day after day in the Jordan region and from that busy, intense time surrounded by the noise and energy and needs of the world and it's people, he is taken to the a barren, quiet, dry, mentally and physically challenging experience in the wilderness. 40 days is a long time to go without the things that usually sustain life and we will explore this more each day this week. However, let's start the week by recognising that Jesus never once resented or asked to escape the desert. The teaching and learning themes we've looked at in the last 2 weeks, help us notice that Jesus saw these 40 days as a valuable and essential part of his learning and teaching that would prepare him for the next stage of his ministry. The next stage of his ministry would eventually lead to the challenges of the betrayal, denial, arrest, crucifixion and resurrection of the Easter story and without the wilderness experience, the human part of Jesus would not have had the resilience and resolve to face those events that ultimately changed the world forever.
The wilderness time, the lockdown days are not something to escape, avoid or persevere with, they are liminal spaces that will build us up for the future. The very vulnerability and openness of liminal space allows room for something genuinely new to happen. We are more empty and receptive—erased tablets waiting for new words. Liminal space is where we are most teachable, often because we are most humbled and in touch with the basic priorities of life.
Even if you've never heard the word liminal before, perhaps you have a sense of what we're talking about this week. It would be difficult to exist in this time of global crisis and not feel caught between at least two worlds—the one we knew and the one to come. But this is not a time to waste or wish away; this is a time where we will learn more about ourselves, our world and our God than ever before. This is a time that will teach us what we need for the future.
Today's prayer
O Great Love, thank you for living and loving in us and through us. May all that we do flow from our deep connection with you and all beings. Help us become a community that vulnerably shares each other's burdens and the weight of glory. Listen to our hearts' longings for the healing of our world. [Please add your own intentions.] . . . Knowing you are hearing us better than we are speaking, we offer these prayers in all the holy names of God, amen.
By Father Richard Rohr