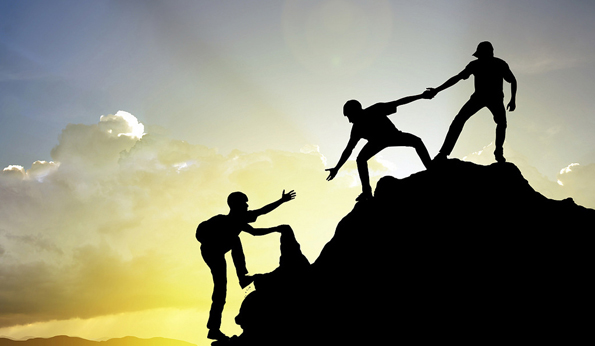 Two are better than one, because they have a good return for their labor: 1If either of them falls down, one can help the other up. But pity anyone who falls and has no one to help them up. Also, if two lie down together, they will keep warm. But how can one keep warm alone? Though one may be overpowered, two can defend themselves. A cord of three strands is not quickly broken. Ecclesiastes 4 v 9-12
When I was Chaplain for 10 years in a school for children with additional support needs, I used to take my guitar to Friday assembly every week. The kids used to like to come up and touch the guitar, pull the strings and if they were very lucky they were sometimes allowed to put the strap round their neck and have a shot! However, the real reason for taking my guitar into assembly was for our singing; different songs each time depending on the theme of the day but every time, without fail, our time together would end by singing a song called "Friends". It would start with me asking everyone to find a friend in the hall and to join hands with them and we would shake hands or sway arms all joined up together during the song. It was our anchor song, it brought us back to each other every time and the words, I know, have stayed with me and with many of the staff and pupils way beyond leaving the school:
Friends, isn't rather nice to have friends?
Isn't rather nice to have: friends to rely upon, shoulders to cry upon?
You must have friends.
Friends, nothing is quite complete without friends
And if you every meet some one
Who will be part of life, right from the start of life, until the end
Then my friend you've made a friend.
Most of us would agree we wouldn't have a very meaningful life without friends and our friends teach many things on our life's journey.
What does the Bible say about being a friend? Well, according to the Bible, true friendship is characterized by love. The Proverbs, the example of David and Jonathan, instructions to the Church, and, ultimately, Jesus' example depict true friendship. A true friend loves, gives wise counsel, remains loyal, forgives, and promotes the other's welfare. However, friendship is also about spending time together, not just in the good times but in the hard times too. Although it's so difficult at the moment to be separated physically from our friends, let's not lose touch. Send a card or letter, pick up the phone, zoom in by zoom! We all need our friends to make us laugh, hear our worries, share our ideas with and offload our moans and groans to! If they are our true friends they can also just be there for us to accompany us on the road no matter what our challenges are. However, that also means that sometimes we need to say sorry to our friends and admit that our own faults can get in the way of our friendships. "Two are better than one" our passage tells us today but remember, it is a two way street and maybe a friend of yours needs you to lean on today. Let's think for a moment about a friend we haven't spoken to or reached out to for a while…..why is that? What could we do differently in our friendships today?
Today's prayer: CH4 no. 792
Our God is a God who makes friends,
our God is a God who makes friends,
our God is a God who is faithful to the end,
our God is a God who makes friends.
Our God calls us now to make friends
Our God calls us now to make friends
Yes, you as well as I, we're the very ones God sends
Our God calls us all to make friends