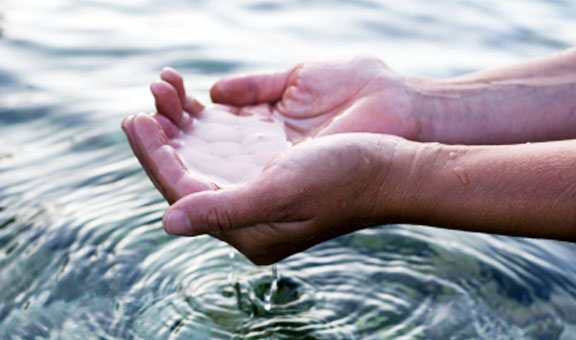 While Jesus was standing there, he cried out, "Let anyone who is thirsty come to me, and let the one who believes in me drink. As the scripture has said, 'Out of the believer's heart shall flow rivers of living water.'" John 7 v 37-38 (NRSV)
Yesterday, as we learned from birds, we heard from a woman in Wuhan who, during lockdown, noticed more clearly the bird song in her normally noisy environment. In Italy, another woman was the first to claim and comment on Twitter that swans had 'returned' to the canals of Venice during the virus crisis. Most people dispute this saying that in fact the birds have long been in Burano but others claimed that the fish were also back swimming in the waters. Perhaps these aren't accurate representations of what's going on, but we have seen a boost to nature in this area and beyond because of lower levels of pollution, clearer water, and cleaner air. 'The water now looks clearer because there is less traffic on the canals, allowing the sediment to stay at the bottom,' a spokesperson for the Venice mayor's office said. 'It's because there is less boat traffic that usually brings sediment to the top of the water's surface.' Whatever the explanation, I think it's lovely that people noticed the swans and the fish as something new and hopeful.
Today, I encourage you to keep learning from nature in this Easter season and specifically to think about and give thanks for water.
Water, in the bible, is used both figuratively and literally. It is mentioned in passages where humanity is in danger of being overcome, for instance, when describing the literal deluge in Noah's time and in the figurative "when you pass through the waters I'll be with you". Water is part of the symbolism of birth and death in this respect but also associated with spiritual cleansing as many biblical characters are told to wash themselves in bodies of water in order to begin again. Christian baptism has it's origins in this practice but Jesus goes further in the New Testament by actually saying that he can satisfy the spiritual thirst that people experience in life saying "whoever comes to me I will give the water of life" (John 4). That's why in church, the sacrament of baptism is a holy rite set apart from ordinary life with water that is blessed and imbued with spiritual energy.
As we'll hear in our prayer this morning, a children's hymn, "Nobody can live who hasn't any water". Not only is the average adult human body composed of 50-65% water but we need water to wash, to cook, to drink and to power our daily life in so many ways. Today, notice water as an integral part of your day: perhaps you will walk near a peaceful stream, perhaps you will water your garden, perhaps you will hang out washing, cook potatoes in a pan of water or rinse some strawberries to eat. Whenever you use water today, be reminded of your baptism and the assurance that you are God's precious child. Even if you haven't been baptised, know that you are blessed by drops of God's goodness each time you experience the water of life this day. And when you wash your hands, here's our prayer for the day to sing to make sure you wash them for at least 20 seconds!