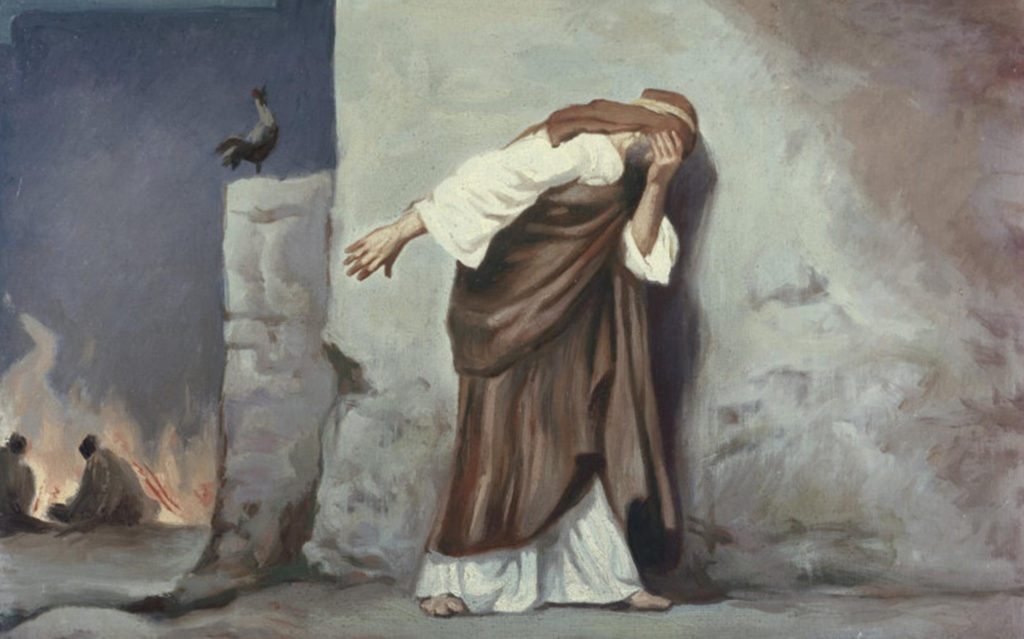 Throughout this Holy week journey we will share words and material from the "Spill the Easter Story with Fischy" group of which I am part. Today's material has been prepared and chosen by Rev Roddy Hamilton of New Kilpatrick Church, Bearsden.
Reading: Mark 14 v 66 – 72 read the passage in your own bible at home.
Re-imagined version of the story:
It was late at night – very late, and it was cold – very cold. So one of Jesus disciples – yes only one, waited outside in a courtyard while inside Jesus was being questioned.
Peter didn't know what was happening. No one did but he just wanted to be there, as close to his friend Jesus as he could be.
There was a campfire to gather round, and a few people did, to keep warm, to talk together, their faces lit orange by the flickering flames.
"I've seen you with him," someone said, almost a whisper beside him.
"No, you are mistaken," said Peter, and he moved round to the other side of the fire.
"The person looked at him again over the flames. "It is you! I've definitely seen you with him," she said more loudly. Others heard her and looked at Peter who pulled his cloak around him to hide his face.
Then other joined in, "Yes, you are one of his disciples. We've seen you with him. I recognise your face."
"Nooooo!" shouted Peter, but before the word was out a cockerel crowed and Peter hung his head as he remember what Jesus said about him denying him. And Peter sunk down by the fire and began to weep.
Maundy Thursday is the day when Christians often share a very special communion remembering that Jesus washed the disciples feet before they sat together at the table for the last supper.
A Hymn for Maundy Thursday: Meekness and Majesty
All Age Prayer
When you invite us to follow
help us say, 'yes'
When we make mistakes
help us say, 'sorry'
When we get lost
help us find home
When we're asked who you are
help us say, 'our friend'
When you say 'are you mine'
help us say, 'Amen'
Today's thing to make and do:
There must be so many things we have done that we are sorry for. I wonder how Peter felt when he denied Jesus as he stood by that fire. Take some paper, it could be newspaper or coloured paper and cut it into flame shapes. Write there some of the things you want to say sorry for. Depending on how many you cut, you could create a circle that reminds us of God's love despite what we do that hurts others: a love that is eternal and holds us despite what we do.
Today's Spill the Easter Story with Fischy video for during the day or to watch at 7pm this evening when church services would usually be taking place.