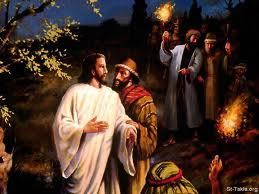 Throughout this Holy week journey we will share words and material from the "Spill the Easter Story with Fischy" group of which I am part. Today's material has been prepared and chosen by Rev Roddy Hamilton from New Kilpatrick Church in Bearsden.
Reading: Mk 14 v 32-36 Gethsemane
Read the passage in your own bible at home

Re-imagined version of the story
And Jesus went out to pray,
To be alone with God.
And the place he went
Was a garden
Of olive trees.
Olive trees are twisted and gnarled;
It was how Jesus felt this night:
Confused at what best to do.
He had so many questions about what was going to happen,
And he knew the best thing to do
Was go and pray.
And so he did.
He found a quiet place,
And spoke to God,
About exactly how he felt,
All the hurt,
All the worry,
All the questions.
And there he knew,
Somehow,
God was with him
Through all things,
All the way,
For that is what love does.

Traditional Hymn: Go to Dark Gethsemane

All Age Prayer
Father God,
We are all a bit worried about the virus just now. Thank you for all the nurses and doctors and paramedics who are working hard to look after people in hospitals all over the world.
Dear God, please look after all our friends and members of our family whom we can't see just now. Please be with anyone who is feeling sad or lonely.
Dear God, we want everyone to have a safe home to live in and the medicine that they need.
Even though this is a difficult time, please help us to enjoy the good things in your world like hearing the birds singing when we go out for a walk and talking to our friends and family on the phone and internet.
Thank you that we can still share our prayers and be a church even though we can't go to church right now.
Amen.
Today's thing to make and do
Jesus in the garden tells us about how honest you can be in prayer. Jesus was very honest with God. Why not create a prayer tree that reminds you of this story and also is a place for honest prayer.
Find a few twigs from the garden and place in a vase. Cut out leaf shaped pieces of paper and tie a piece of wool or string or thread through a hole in the leaf. During today whenever you things of a concern or a problem or a worry, like Jesus, share it with God but writing that prayer on a leaf and hanging it on a branch.
Today's Spill the Easter Story with Fischy Video to do throughout the day or at 7pm when Holy week services would have been happening in churches. We start with the song "Coming Home to You" which is based on the words of Psalm 23.